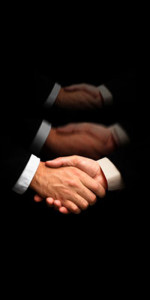 Safety and security training is one benefit members of the Diamond Bourse of Canada (DBC) will gain now that Jewelers Mutual has officially announced its support of the diamond exchange.
 
In addition to training, the insurance company will also provide consultations at the request of members and present seminars at the bourse.
For its part, the DBC is exclusively endorsing Jewelers Mutual's commercial and personal insurance products.
"The diamond bourse is a feather in the cap of the Canadian diamond industry, and Jewelers Mutual is thrilled to support it from its very inception," said Darwin Copeman, chief executive officer (CEO) of Jewelers Mutual. "Together, our organizations can provide essential business support to bolster Canada's growing diamond industry."
Bhushan Vora, the bourse's board chair, said the partnership is a win-win situation.
"Jewelers Mutual's support and alliance with the Diamond Bourse of Canada will benefit the members in many areas, such as security, insurance benefits, and education," he noted. "This relationship will bring a greater co-operation within the industry and will move the industry in the right direction, benefiting all within the supply chain."