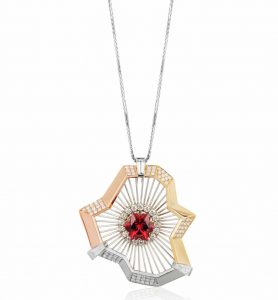 As the 2018 Spectrum Awards competition creeps closer to its June 29 deadline, the American Gem Trade Association (AGTA) has announced its selected judges. This year's panel includes retailers as well as a lapidary, manufacturer, and designer.
The five judges chosen for this year's competition are:
Darryl Alexander of Alexander's Jewelers, an experienced gem cutter and jeweller;
Randy Coffin of Coffin & Trout, co-founder of the Spectrum Award-winning company;
Andre Hahn of Vielle Jewelers, a manufacturer with experience both designing and making jewellery;
Pieter Hye of Pieter Andries Jewelers, a retailer and certified gemmologist appraiser; and
Dallas Prince of Dallas Prince Designs, who moved into jewellery design from the television industry more than 18 years ago.
Whatever their sector of the industry, all appointed judges boast lengthy experience, and many are past winners of honours such as the Gemmy Awards, International Cultured Pearl Association awards, and the Spectrum Awards themselves.
"This year's group of judges is unique, with many AGTA Spectrum Awards under their collective belts and a plethora of talent and experience," said Douglas Hucker, CEO of AGTA. "I look forward to seeing how these great minds come together to select the 2018 AGTA Spectrum Awards winners."