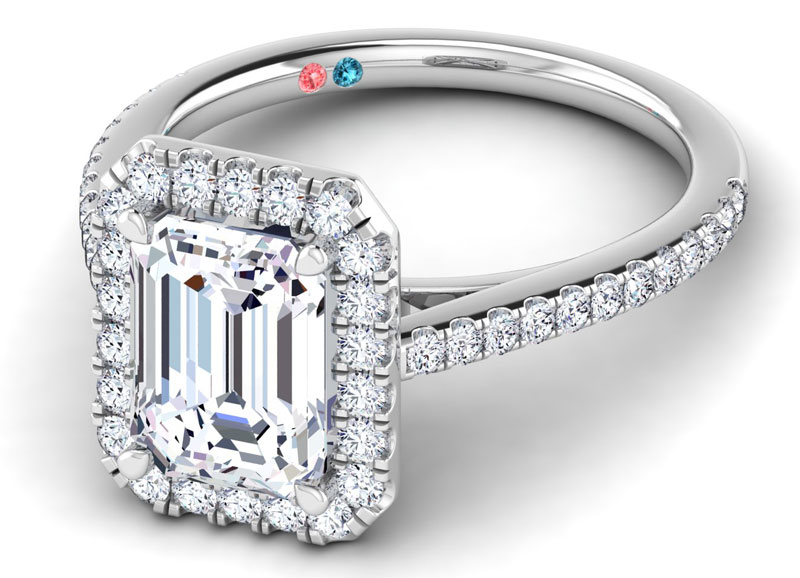 More than US$75,000 worth of synthetic diamonds are up for sale, with proceeds going toward Jewelers for Children (JFC).
Virtual Diamond Boutique (VDB) and International Gemological Institute (IGI) have partnered with JFC to host the first-ever international lab-grown diamond charity auction. The sale offers loose lab-grown diamonds, as well as finished jewellery, including a two-carat emerald-cut halo ring.
Proceeds generated from the sale will benefit JFC charity partners, including Elizabeth Glaser Pediatric AIDS Foundation, St. Jude Children's Research Hospital, National CASA Association, Make-A-Wish America, Make-A-Wish International, Santa-America Fund, and Organization for Autism Research.
Items have been donated from several lab-grown diamond groups, including Classic Grown Diamonds, Made by Man Diamonds, Green Rocks Diamonds, Smiling Rocks, Unique Lab Grown Diamond, and more.
"We are delighted the lab-grow diamond community has come together to benefit children," says JFC's executive director, David Rocha. "Because we were unable to hold in-person events in 2020, VDB developed a fabulous digital auction app. Our virtual auction event held on the app last year proved very popular, and we're thrilled to now be able to offer this lab-grown diamond event as an option for those who may not be attending market week in Las Vegas."
All donated items are accompanied by grading reports from IGI. Additionally, the group will provide logistic services, including storing, shipping, and sealing of loose stones.
"IGI is committed to bringing the industry together in support of meaningful causes, like the charities benefitted by Jewelers for Children," says IGI's North America president, Avi Levy. "When IGI pioneered lab-grown diamond certification more than 15 years ago, the goal was to provide accurate and reliable reporting, which is still true today, but the opportunity to contribute our knowledge and resources to this all-important fundraising initiative is truly priceless."
"We believe in the power of collaboration to achieve great things," adds VDB's president and CEO, Tanya Nisguretsky. "Together, VDB, IGI, and the lab-growers can do far more for Jewelers for Children than any of us could do individually. It's a win/win/win."
The digital auction will take place during Las Vegas Jewelry Market Week, with bidding closing during the JFC 'Facets of Hope' dinner on Aug. 29. Bids can be submitted through the digital auction app created and powered by VDB for JFC.
For more, click here.