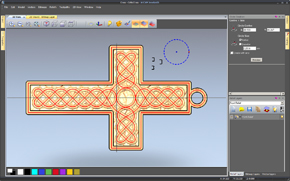 A closer look at customizable user interfaces, modelling in 3D, and enhancements in sculpting await attendees of ArtCAM's User Group event next month.
Held in Las Vegas from Sept. 30 to Oct. 2 at the Embassy Suites, the workshops also offer modelling tips and tricks, engraving techniques, a look ahead to version 2011, and a social gathering at the end of opening day for registered attendees.
"Our user group social is a unique feature to our meeting," said Sean Plunkett, ArtCAM's North American product manager. "It is the only time when our customers can share ideas, accomplishments, and development wishes in an open and casual environment."
The workshops—held over two days—also offer industry-focused tutorials for JewelSmith and non-JewelSmith users, along with the opportunity to get more specifics on related topics or techniques of interest.
For more information, visit www.artcam.com/promos/ug2010.