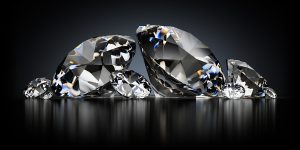 Lucara Diamond is calling the second quarter of 2018 a success for its Karowe mine in Botswana. The Vancouver-based diamond producer reports it recovered 253 diamonds exceeding 10.8 carats, or 'specials,' during this period—its highest recovery rate for specials since mining operations began. Of these, 11 weighed more than 100 carats, with three larger than 300 carats.
Since some specials were recovered after the sale cut-off date, only 100 of the 253 were sold in the second quarter, with the remainder slated for the next period. Prices exceeding US$1 million were fetched for 12 of the diamonds sold during this time.
Lucara also saw positive results in its revenue from the quarter's regular tenure (which increased 29 per cent over the second quarter of last year) and its carat volumes (which grew 28 per cent). A new resource estimate at the AK06 kimberlite also boosted the south lobe's indicated mineral resources by 2.2 million carats, up to a new total of 6.8 million.
Other metrics were down, with quarterly sales revenue dropping to US$856 per carat from US$1336 per carat in 2017. Earnings before interest, taxes, depreciation, and amortization (EBITDA) also fell to US$36.1 million from last year's number of US$51.8 million, which the company says is due to smaller volume and lower average price of exceptional stones. Additionally, Lucara notes, the numbers for the second quarter of 2017 were affected by the sale of a 374-carat diamond for US$17 million.
"The Karowe mine continued to perform well in the second quarter, underpinned by the continued, consistent recovery of specials," said Eira Thomas, Lucara's CEO.