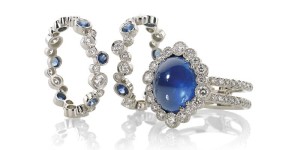 Designer Erica Courtney, Italian brand Nanis, and bridal company Michael M. are the newest exhibitors to sign up for Luxury.
Luxury joins Prestige, Luxury Watch, and Elite Enclave in newly renovated ballrooms that are part of Mandalay Bay's makeover.
"We are so pleased to welcome Erica Courtney, Nanis, and Michael M. to the Luxury community," says Sarin Bachmann, Luxury industry vice-president.
"These brands are nothing short of iconic in regard to high-end fashion-forward jewellery and are the perfect [addition] to the remarkable array of brands in Luxury and the captivating programming we are putting forth this year to complement business on the salon floor. We are constantly striving to take the show to the next level and meet the evolving needs of the jewellery industry."
Courtney says she is thrilled to be exhibiting at Luxury this year.
"A lot has changed in the jewellery industry and in our business; we believe Luxury is the right fit for us in order to continue evolving and changing with the market," she said. "I look forward to showcasing my collections alongside respected brands and in front of high-quality retailers the Luxury event is known for."
Brands such as A. Link, Lauren K, Lika Behar, Memoiré, Oscar Heyman, and Peter Storm Jewelry are exhibiting at Prestige, which is now in Luxury.
Featuring exhibitors like BALL Watch, Chronoswiss, and Cuervo Y Sobrinos, Luxury Watch runs from May 26 to May 29 and includes an open-air networking lounge sponsored by Wrist Watch magazine.
Luxury runs from May 31 to June 2 by invitation-only, then continuing the week and opening to all JCK retailers from June 3 to 6.
For more information on Luxury, please visit jckonline.com/luxury.