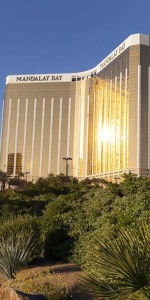 Luxury, Prestige, and Elite Enclave are moving in together.
JCK Events says the three events will be held in newly renovated ballrooms that are part of Mandalay Bay's makeover.
The move also marks the introduction of Luxury Watch. The two Luxury events kick off Las Vegas Jewelry Week, which runs from May 31 to June 2 by invitation-only. JCK is open to all retailers from June 3 to 6.
Organizers say bringing together all three shows will create "a one-stop shopping event for high-end buyers."
"We are thrilled to be able to meet the demands of the Luxury community with the addition of Prestige to the Luxury family," said Sarin Bachmann, Luxury's event director. "The brands from each group have always been like-minded and of matching calibre, so it's nice to officially celebrate that synergy and provide even more value and convenience for our retailers."
Alongside Prestige, the upgraded ballroom also presents a new opportunity for brands seeking a larger, highly customized salon to match their motif. Additionally, the introduction of Luxury Watch in the ballroom salons helps provide an intimate destination for fine timepiece brands seeking a balance between appointment-setting and walk-by traffic.
For more information on Luxury 2016, visit jckonline.com/luxury.