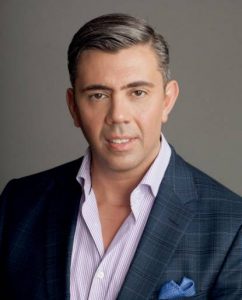 With the passing of another year, the Canadian Jewellers Association (CJA) has named a new board chair. Marco Miserendino of Montréal's Bijouterie Italienne will take up the mantle for 2018/2019, taking over from outgoing co-chairs Umesh Shah (RJB Diamonds) and Stephen Cole (Spicer Cole Fine Jewellers).
Miserendino is the vice-president and managing director of Bijouterie Italienne, which he co-owns with his sister Paola. He is an Independent Jewellers Organization (IJO) Master Jeweller and an American Gem Society (AGS) CRJ titleholder with education in accounting and business management from the University of Québec in Montréal (UQAM). In the coming year, Miserendino will head up a board composed of representatives from provinces across Canada, including British Columbia, Manitoba, Ontario, Québec, and Newfoundland.
The association officially welcomed Miserendino into his new role at an annual general meeting (AGM) on July 23. For details on the event and on this year's board of directors, click here.