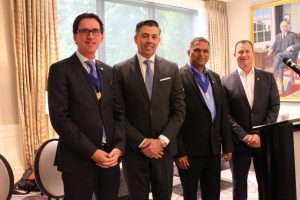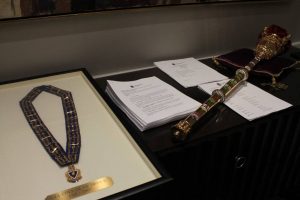 Members of the Canadian jewellery industry gathered at Toronto's stunning Rosedale Golf Club on July 23 for the Canadian Jewellers Association's (CJA's) annual general meeting (AGM). On the roster were discussions of the past year's business as well as the direction CJA is headed in 2019.
The meeting also gave outgoing chairs Stephen Cole (Spicer Cole Fine Jewellers) and Umesh Shah (RJB Diamonds) an opportunity to pass the torch to their successor, Marco Miserendino of Montréal's Bijouterie Italienne.
Cole and Shah highlighted the complex process of combining CJA with Jewellers Vigilance Canada (JVC) as a defining factor of their year as chairs, adding the support of the membership and the association's partners was instrumental.
"I feel I am a better person for having had this experience, and I am very grateful," said Cole in his address.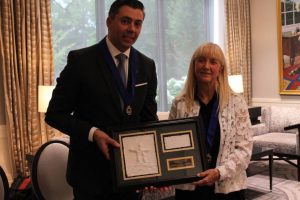 Both outgoing chairs received commemorative plaques and pins from CJA, presented by Miserendino, honouring their service of the past year.
After a brief break where attendees had the chance to enjoy snacks and cocktails, the AGM got back underway with the presentation of two awards. The 2018 Chairman's Award was presented to Alex Barcados of C.D. Barcados in recognition of his dedication, integrity, and commitment to the industry, while CJA past chair Tanya Parrish was the recipient of this year's Erol Paylan Memorial Award.
"I really do have my heart in the CJA, and it has been a great time for us," said Parrish as she accepted the honour. "I really believe this is the work that will help us move forward as an industry voice and an amalgamation of two groups that needed badly to get together and help the industry to grow and prosper."
Stepping into Miserendino's former position as first vice-chair on the CJA board is Lena Nazzaro of Gucci Watches & Jewellery, while Kevin Kaye of Citizen Watch Company of Canada and Gail Golberg of Beverly Hills Jewellers reprise their roles as second vice-chair and treasurer, respectively.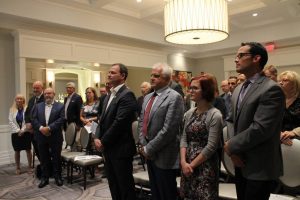 The board of directors for 2018/2019 comprises:
~By Carly Midgley