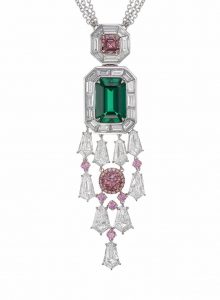 A new offering joined Rio Tinto's collection of coloured diamonds at the Argyle Pink Diamonds Tender showcase in Hong Kong this month. In addition to the 63 pink, red, and violet diamonds the company previously promoted, a necklace featuring Argyle pink diamonds and a Muzo emerald was unveiled.
"I am delighted with this collaboration," said Jason Woods, director of Muzo Emeralds. "Breathtakingly beautiful and contrasting in colour, Argyle pink diamonds and Muzo emeralds are responsibly sourced and ethically mined in two remote corners of the world: the East Kimberley region of Western Australia and the Boyaca region of Colombia."
The 5.25-carat centre emerald is flanked by two 1.77-carat pink diamonds. Called 'Earth Magic,' the necklace was designed by Singapore-based John Glajz and has been valued at US$4.5 million.
"Muzo emeralds are a natural partner for Argyle pink diamonds as we share the same obsession for craftsmanship and pedigree, masterfully expressed with the fusion of our rarest gems," said Josephine Johnson, Rio Tinto Diamonds' global marketing director.
The tender travels to New York next, with bids closing on October 10.