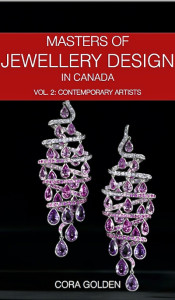 Twenty-five Canadian fine jewellery designers get their turn in the spotlight in a new e-book.
Masters of Jewellery Design in Canada (Volume 2) by Cora Golden profiles such notables as Toronto's Shelly Purdy, Reena Ahluwalia, and John de Jong, highlighting the work that has earned them accolades on the world stage.
Featuring more than 450 photos of award-winning jewellery, both books in the series are available on iTunes and were developed in partnership with Maison Birks. Volume 1 profiled 25 early designers and ateliers, such as Vancouver's Toni Cavelti, whose 60-year career included commissions for the Queen.
"It is with pleasure that Maison Birks collaborated with Cora Golden in the production of her books, Masters of Jewellery Design in Canada (Volume 1 & 2), as they represent the first-ever books about fine jewellery in Canada," said Eva Hartling, the company's vice-president, marketing & communications.