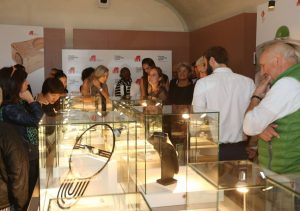 Jewellery, gold, and watch enthusiasts alike will have the chance to check out something new at the 2018 edition of VicenzaOro September, which will run from September 22 to 26 in Vicenza, Italy.
Watches are a regular fixture at this annual event, and will gain particular exposure this year with the new Watch Room located within the Look district. Mechanical and quartz timepieces will be displayed by 12 brands in hopes of sparking partnerships between watch producers, distributors, and retailers.
Another addition is the Icon district's Design Room, in which independent designers can show off their most unique, creative, and experimental pieces. For those more interested in technology, meanwhile, there is the new T.Evolution district, which showcases small machinery, processing technology, and 3D printers.
Attendees hoping to take a broader look at where the industry is headed can also consult the latest TrendBook from Trendvision Jewellery + Forecasting, which offers a prediction of what we might see in terms of international trends, developments, and buying patterns between now and 2020. The book will be presented at a seminar during the show.
For more on VicenzaOro or to register, visit the event's website.