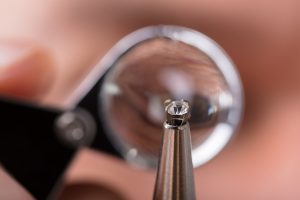 Beginning in June, the Gemological Institute of America (GIA) will offer education to help gemmologists better recognize synthetic diamonds. The institute plans to offer the seminar internationally later in the year, but it will begin at Hong Kong's GIA school on June 19.
"GIA examined and characterized the earliest gem-quality synthetic diamonds nearly 50 years ago. Since then, we have continued to build the institute's expertise in identifying synthetics through robust, published research into their properties," said Wuyi Wang, GIA's vice-president of research and development. "As the public becomes more aware of gem-quality synthetic diamonds—including melee sizes—it is imperative the industry is prepared with training and expertise to address consumer concerns."
To this end, the seminar will rely on a combination of lectures and hands-on learning to familiarize attendees with the properties of chemical vapour deposition (CVD) and high-pressure, high-temperature (HPHT) synthetic diamonds. Treatments, formulation, and analysis will also be covered.
The first iteration of the seminar will accommodate 15 people. To register, contact GIA Hong Kong.