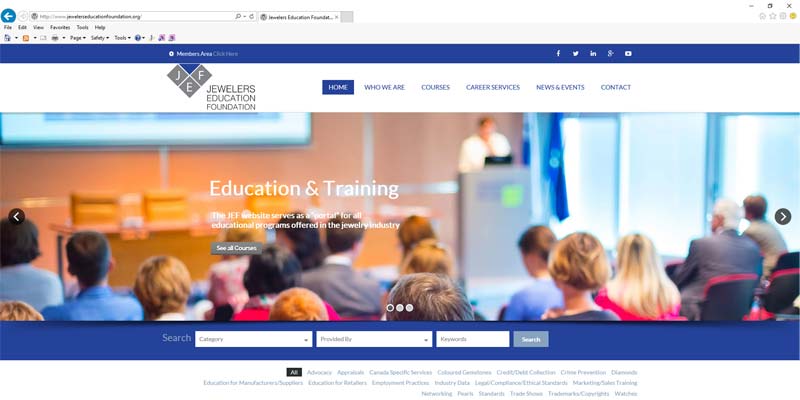 A new tool is available to help existing and prospective members of the trade find and access educational programs related to various parts of the industry.
Launched by Jewelers Education Foundation (JEF), Jewelers Education Portal is a collaboration between associations serving the jewellery, diamond, coloured stones, precious metal, and watch sectors. The website also provides information about services available from each association, including crime prevention, legal and ethical standards, appraisals and credit reporting.
"This initiative is a result of the sponsoring organizations' aim to help industry members take advantage of the full scope of educational curriculum, activities, and resources available to better position individuals and businesses for success," JEF said in a press release. "The sponsoring associations worked together under the auspices of the Jewelers Leadership Forum to provide this web portal as an added benefit for their respective members and for the industry as a whole."
The site also includes links to career services and details of upcoming events being offered by the participating organizations.
The initial sponsoring organizations include participants from both the United States and Canada, such as:
American Gem Society (AGS);
American Gem Trade Association (AGTA);
American Watch Association (AWA);
Canadian Jewellers Association (CJA);
Diamond Council of America (DCA);
Diamond Manufacturers and Importers Association of America (DMIA);
Gemological Institute of America (GIA);
Jewelers of America (JA);
Jewelers' Security Alliance (JSA);
Jewellers Vigilance Canada (JVC);
Jewelers Vigilance Committee (JVC);
Manufacturing Jewelers and Suppliers of America (MJSA);
National Association of Jewelry Appraisers (NAJA);
Natural Color Diamond Association (NCDIA);
The Jewelers Board of Trade (JBT); and
Women's Jewelry Association (WJA).
Jewelers Education Foundation is a non-profit organization founded for the purpose of furthering education to the jewellery industry at large.