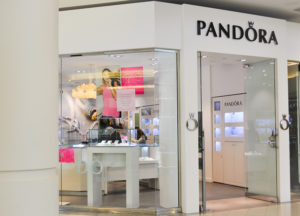 After a third quarter it is declaring "unsatisfactory," Pandora has launched a new program aimed at cutting costs and improving efficiencies across the company. 'Programme NOW' is already underway, and is intended to increase Pandora's like-for-like revenue growth as well as its internal co-ordination.
The plan comes in response to a three per cent decrease in group revenue in the third quarter of 2018. Pandora attributes this decline to numerous factors, including changes in wholesale inventory levels and shipment timing, which contributed to a 27 per cent drop in revenue from wholesale. A slow start to the year's fourth quarter and a lower tailwind from forward integration also inspired the strategic revamp.
"We have reviewed our business and decided to launch a forceful program with the aim to materially reduce costs across the company to free up resources to invest in sustainable like-for-like growth. At the same time, we have to lift Pandora to the next level of maturity, operating as a more unified global company," said Anders Boyer, the company's CFO. "We have confidence in a strong future for Pandora and will use 2018 and 2019 to reset the business."
The first step in Programme NOW's execution involves reducing franchisee acquisitions and increasing focus on store openings in markets with white space, such as China, India, and Latin America. Efforts to improve the brand's omnichannel presence are also in the works, as revenue from its online store is continuing to grow, now comprising eight per cent of total revenue. However, promotions and markdowns are set to be reduced over the next two years.
Due to the anticipated impact of these program initiatives, Pandora has also cancelled its long-term revenue growth projection of seven to 10 per cent. Additionally, its net store openings between now and 2020 are expected to be lower than the anticipated number of 1000, with 250 to occur in 2018. In future, the company will provide projected store openings on a year-by-year basis.
More detailed financial guidance for 2019 will become available with Pandora's full-year announcement in February. In the meantime, the company's search for a new CEO is reportedly progressing well.