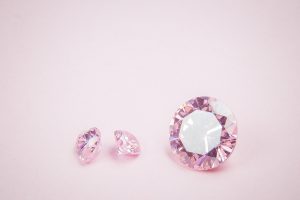 Smaller sizes are leading the way when it comes to fancy colour diamond prices, reports the Fancy Color Research Foundation (FCRF) in its latest index. FCRF says prices increased for one- to three-carat yellow, pink, and blue fancy colour diamonds in the second quarter of the year, but decreased for their larger counterparts.
"The demand for the one- to three-carat weight category remains positive as they are relatively more affordable in their total amount compared to three carats and above," said FCRF advisory board member Jim Pounds. "However, larger exceptional yellows continue to command strong prices."
Indeed, yellow diamonds overcame a four-year trend of declines, escalating in price by 0.2 per cent. Fancy intense yellow varieties performed particularly well. Blue diamond prices continued to rise as they have during the past two years, exhibiting a more pronounced spike of 1.5 per cent. Pink diamonds, meanwhile, saw a price drop of 0.5 per cent despite a two per cent increase in the one- to three-carat size range.
Year-to-year prices for pink diamonds plunged 0.6 per cent, with yellow prices experiencing a similar 0.7 per cent slump. Blue diamonds, however, have climbed 5.7 per cent since last year.
Overall, the index remains relatively stable, increasing just 0.1 per cent for the quarter and 0.5 per cent for the year.