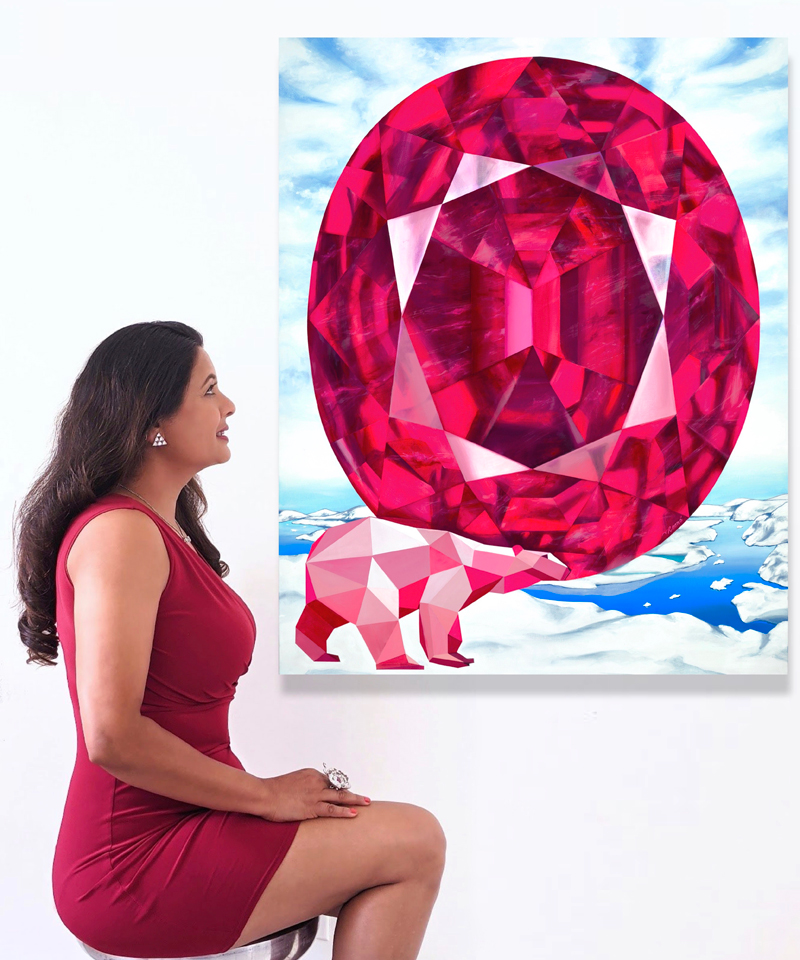 A hyper-realistic ruby painting by Toronto-based jewellery designer and artist Reena Ahluwalia has found a new home in the name of a good cause.  
Yuki Horiuchi, CEO of Japan's Ambrose and Company, Ltd., has been randomly selected as the recipient of Ahluwalia's 'Fire Under Ice' painting.
Valued at $10,000, the custom-made, hand-painted canvas was donated by the artist to Greenland Ruby in celebration of the mining group's five-year anniversary. Proceeds from the campaign supported the PinkPolarBear Foundation, a Greenland Ruby initiative focused on supporting international polar research in all disciplines and protecting inhabitants of Greenland affected by climate change.
Launched in May, the 'phygital' fundraiser represented a first-of-its-kind within the gem and jewellery world. Only 500 raffle tickets were available for purchase, and each donor received a limited-edition animated NFT of Ahluwalia's painting.
"At its heart, my painting conveys the beauty of our natural world," Ahluwalia said of the campaign. "I hope my artwork and NFT will remind donors of the significant contribution they made and keep inspiring everyone to protect and nurture our environment and inhabitants."
"This project is meaningful; I am honoured and thankful to the PinkPolarBear Foundation and Greenland Ruby for this valuable opportunity to fundraise," she added.