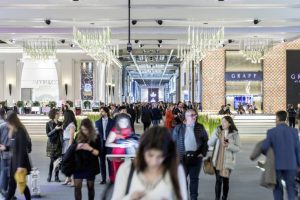 In the wake of Swatch Group's departure from Baselworld, René Kamm—CEO of the fair's organizer, MCH Group—has resigned. In a recent release, MCH Group described the move as a joint decision between Kamm and the company's board of directors.
Until a new CEO is appointed, the board's chair, Ulrich Vischer, will step into the role. Kamm will also remain involved in an advisory capacity for several months.
"We owe a great deal to René Kamm," said Vischer. "Not only has he decisively shaped world-renowned exhibitions such as Art Basel and Baselworld, he also recognized early on the changes that digitalization and multichannel concepts bring with them and, in doing so, advanced the diversification and internationalization of MCH Group."
Kamm joined the company in 1999, beginning his stint with MCH Group as the director of Baselworld. His resignation follows that of the show's managing director, Sylvie Ritter, who stepped down in May.
"I have experienced close to 20 exciting years with Basel Exhibition, Swiss Exhibition, and MCH Group," said Kamm. "I had the opportunity to get to know every aspect of this segment and, as CEO from 2003 on, drive the group's development from a nationally aligned trade fair company to an internationally aligned live marketing group."
The release also included a statement addressing the industry's curiosity about how MCH Group will fare now that Swatch Group has left Baselworld. The company acknowledges the departure will have an effect, but says it will not be possible to estimate the scope of that effect until the group releases its half-year results next month.
MCH Group also says it is holding discussions on how to improve the show and respond more effectively to the requirements of the modern age ahead of Baselworld 2019.