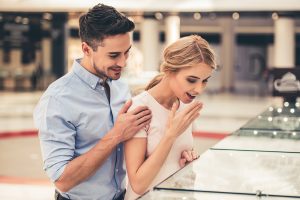 Millennials and generation Z open up a slew of possibilities to the jewellery and diamond trade, according to De Beers Group's Diamond Insight Report 2018. While generation X and baby boomers still have an important role to play in the market, the company argues, it's crucial not to overlook the opportunities and challenges that come with the next generation.
The report defines millennials as people born between 1981 and 2000, and generation Z as those born after 1996. De Beers says these two generations outnumber their predecessors, representing more than two-thirds of total diamond jewellery demand value in the four largest diamond-producing countries. They are on track to be the world's most powerful spending group by 2020.
With this in mind, the report explores how engagement with these generations can be maximized. This starts with identifying millennials' and generation Z's distinguishing characteristics, namely:
natural comfort with the digital world;
appreciation of authenticity and individuality;
concern for social issues; and
a more flexible perception of love.
"Those in the diamond industry must recognize love may now be expressed in many ways, and diamonds may also be used differently to symbolize it, but the connection remains as strong as ever," said Bruce Cleaver, CEO of De Beers.
In other words, the report indicates it's too early to give up on the next generation as consumers of diamonds. In fact, diamonds are the precious gem most desired by millennials and generation Z in both the United States and China. When it comes to jewellery, younger U.S. consumers prefer three-stone rings with a larger centre diamond, closely followed by halo rings; in China, the most popular style by far is the solitaire.
Ultimately, De Beers says it will be crucial to frame offerings and communications around younger customers' behaviours and desires going forward. Brands will need to align their identities and social commitments with the concerns of the next generation in order to maximize the opportunity this age group offers.
To learn more about the demographic's spending habits, priorities, and more, read the full report here.