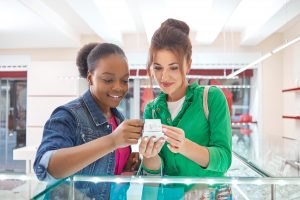 The question of how the next generation interacts with jewellery is at the heart of the World Jewellery Confederation's (CIBJO's) newly released Marketing and Education Special Report. Specifically, the document focuses on generation Z, defining this age group as one that encompasses individuals born after 1996.
The report was compiled by the confederation's Marketing & Education Commission under the leadership of Jonathan Kendall. It emphasizes the need for strategic innovation to capture this demographic, which is expected to account for 40 per cent of consumers worldwide by 2020.
"Gone are the old media approaches of TV commercials, long-term PR plans, and static messaging," writes Kendall in the report. "Today it's all about fast delivery of interactive messages."
He also highlights generation Z's desire for authenticity and customization, as well as the group's tendency to seek advice from peers around the world. Global appeal, Kendall says, is essential, as is an understanding of this age group's prioritization of social and environmental responsibility.
"We need to show we care, because they very much care," he writes. "We must be clear about what we stand for, so our businesses, brands, and products are not interpreted as being uninvolved or, even worse, opposed to the social causes that are important to generation Z."
To read the full report, click here.