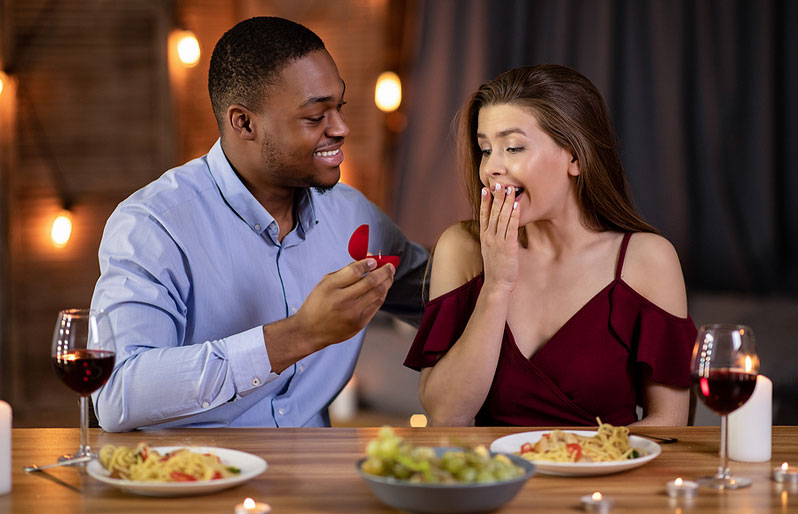 When it comes to engagement jewellery, it is tough to dethrone the classic round diamond.
This is a takeaway from The Knot's 2021 Jewelry & Engagement Study, which surveyed more than 5000 newly engaged individuals to scope out the latest trends in marriage proposals and engagements.
Regarding jewellery, exchanging rings continues to be tradition for 93 per cent of respondents, with the diamond as the preferred centre stone for the vast majority (86 per cent). Round has maintained its position as the most popular cut (41 per cent), but the oval shape has seen steady increase in recent years, jumping from two per cent of purchased centre stones in 2015 to 19 per cent in 2021, The Knot reports.
For the 10 per cent of respondents who opted for a non-diamond centre stone, moissanite was the most popular choice, representing 28 per cent of these gemstone selections. Additionally, nearly 25 per cent of those surveyed selected a lab-grown centre stone, representing an increase of 11 per cent in the past two years.
Meanwhile, the popularity of white gold engagement rings seems to have hit a decline, dropping from 61 per cent popularity in 2017 to 45 per cent this year. Conversely, yellow gold has regained some favour, with an 11 per cent increase since 2017.
Additionally, while social media and jewellery websites are the leading resource for 'ring research and inspiration,' proposers prefer in-store purchasing over online, with 67 per cent of rings purchased at a brick-and-mortar store. Further, half of these in-store shoppers opted to shop with local jewellers. Overall, proposers visited two to three retailers, looking at 10 rings in-store (on average) before making a purchase. The total spent on an engagement ring remained steady at about US$6000 for those surveyed.
Finally, more than 90 per cent of couples announced their engagement on social media, with Instagram and Facebook being most popular (78 and 77 per cent, respectively). Of those surveyed, more than 75 per cent have already set a wedding date for 2022.
"With this renewed excitement surrounding proposals comes an increased interest in highly personalized engagement rings," says The Knot's senior fashion and beauty editor, Shelley Brown. "Oval diamonds, yellow gold settings, and alternative centre stones like moissanite and sapphire are all gaining popularity, speaking to couples' increasing desire to invest in wedding traditions that represent their specific love story and personal taste."
For more, click here.