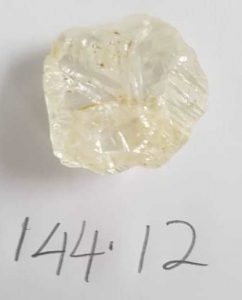 A diamond weighing 144.12 carats has been discovered in Sierra Leone, reports the country's Ministry of Mines and Mineral Resources (MMMR) and National Minerals Agency (NMA).
In compliance with the Kimberley Process (KP) Certification Scheme, the gem has undergone a three-part valuation process. NMA gave it a value of US$648,540, while independent valuers determined it is worth US$659,925, and its owner valued it at US$601,701.
The highest of these three numbers—the one determined by independent valuers—was used to calculate the relevant royalty and taxes. Choosing to export the diamond, the owner paid the government a royalty of US$98,988, equivalent to 15 per cent of the gem's export value.
Although Sierra Leonean diamonds weighing 709 and 477 carats respectively have recently been sold at auction, the government has reminded citizens diamonds are not legally required to be sold in this way. This may be reassessed in an upcoming review of the country's Mines and Minerals Act.