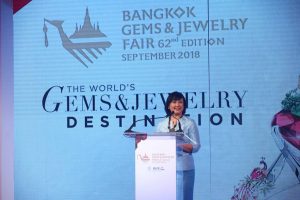 Preparations are underway for the 62nd Bangkok Gems & Jewelry Fair (BGJF), which kicks off September 7 and runs for five days. Intended to provide international networking opportunities as well as a platform for Thai manufacturers, the event carries the theme of 'Heritage & Craftsmanship.' It will be hosted by Thailand's Department of International Trade Promotion (DITP).
DITP's director-general, Chantira Jimreivat Vivatrat, says this year's show is expected to draw more than THB 2.2 billion in sales and more than 20,000 buyers and visitors from 130 countries.
In addition to traditional educational opportunities such as seminars, BGJF will offer demonstrations of techniques such as moulding, invisible setting, carving, and stone polishing from the Thai Goldsmith Association. Four new showcases have also been added, including one that will feature work from 40 brands chosen to participate in product development workshops.
The show will be open only to the trade from September 7 to 9, then welcome the public September 10 and 11. For more information, click here.