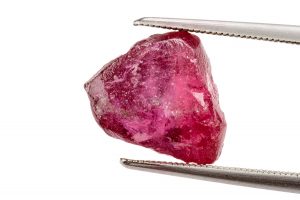 Fura Gems, a Toronto-based gemstone producer, has acquired nine ruby assets in Mozambique. The company has formed a merger of ruby assets agreement with Australia's Mustang Resources and U.K.-based Regius Resources Group, taking control of a ruby land package covering 1104 km2 (426 mi2). With the assets come a number of infrastructure elements, such as wash plants and mine camps.
"I am pleased to announce the merger of these ruby assets with those of our existing licences in Mozambique, transforming Fura into the largest ruby group by licence area in the country," said Dev Shetty, Fura's CEO. "Our team has in-depth experience in the Mozambique ruby sector, having worked in Mozambique since 2011, when they were instrumental in discovering and developing what is largely considered the world's largest ruby deposit."
The company expects to begin bulk sampling by the year's end, with auction sales beginning in the third quarter of 2019. It also intends to make improvements to the assets' wash plants, as well as their grading and marketing systems.
Fura is paying a total of $14.6 million for the assets, with $3 million being offered in cash and the rest broken up over shares. The acquisitions are additional to Fura's existing Mozambique ruby project.