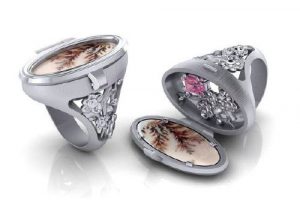 The Women's Jewelry Association (WJA) has announced the recipients of its grants and scholarships for the 2018/2019 academic year. Prizes totalling US$65,000 have been awarded to 45 women in the jewellery industry, including 12 students.
Recipients include:
Christina Miller of Ethical Metalsmiths (Carelle-WJA Grant);
Lisa West, freelance computer-aided design (CAD) artist and a veteran of the United States Air Force (Female Veteran Scholarship);
Julie Martin of Scout Mandolin (Cindy Edelstein Jewelry Design Scholarship);
Magan Byron of the Gemological Institute of America (GIA) and the University of Georgia (Gabriel Love Foundation Scholarship); and
Hsinyu Chu of GIA (June Herman Designer/Creator Scholarship).
Designer/Creator Scholarship Awards in varying amounts were also granted to Hannah Hash of GIA, Ekaterina Korzh of the University of Iowa, Zihan Yang of Savannah College of Art & Design, and Sidnee Tyree of Kendall College of Art and Design. Jacqueline Lapuck of GIA and Natalie Tjaden of the University of Tennessee earned Non-designer Scholarships to further their studies in the jewellery field, and Madison Desmond of GIA, Sarah Andrie of GIA, and Jodi Webster of the University of Kansas each received grants equalling US$1000.
The awards honour excellence in a variety of categories, from exceptional design and metalworking to inspirational leadership and commitment to WJA.
"It is important WJA encourages and continues to support the professional growth and educational endeavours of women in the jewellery and watch industries," said Jenny Luker, WJA's board president. "The recipients are all extraordinary and exceptional at what they do. We are excited to see what new opportunities they will bring to our industry."