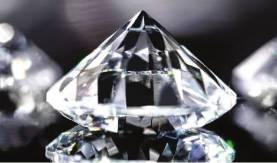 As jewellery lovers themselves, retailers in this industry are dedicated to helping their clients create or find perfect pieces to mark special moments in life. Additionally, each transaction works to create lasting, trusting connections between a jewellery professional and their client to build a relationship and ensure repeat business.
A significant aspect of this relationship is trust. As a jewellery retailer, you want your customer to feel confident they are getting what they have paid for. Ensuring this confidence starts with your decision to make smart, safe, and secure diamond and gemstone purchases when building your inventory.
Staying vigilant and knowing how to minimize the risk of being scammed is the best way to protect yourself, your business, and the client relationships you have worked so hard to build. What follows are five tips to ensure you are doing your due diligence to purchase diamonds and gemstones in a smart, secure manner—for the sake of your business and the bottom line.
1. Beware of unsolicited calls
According to the Gemological Institute of America (GIA), illegitimate sellers sometimes employ unsolicited phone calls or emails to advertise beautiful gems, telling prospective buyers they can make a large profit 'buying direct from the source.' When presented with these offers, many retailers may feel pressured to act fast or risk missing the sale. Don't be hasty: before pulling the trigger on an unsolicited sale, consider the long-term consequences buying from that type of seller might bring.
2. Use your judgement
As a rule of thumb: if an offer sounds too good to be true, it probably is. Don't let the promise of profit cloud your judgement.
Indeed, gemstone and jewellery scammers prey heavily on those who are most concerned with making a profit, especially in times of social or economic turmoil. Be vigilant and make sure to avoid promises of quick cash—the security of your business depends on it. Educating yourself on other types of scams you may be vulnerable to is another great way to ensure safe and secure purchases.
3. Shop and purchase in person
In the past decade, much of the business of buying and selling gemstones has moved online (the pandemic, of course, has made this practice even more prevalent). Scammers selling fakes take advantage of this by posting misleading photos and information that can be convincing to even the most seasoned professional. If possible, whenever buying from a new seller, view and purchase the stones in person and consult with a gem specialist on staff.
Additionally, many scammers have been known to switch out a gemstone between the first viewing and when the jeweller completes payment. When making a purchase, it is crucial to inspect the stone again before following through with the transaction to ensure the gem you are buying is, in fact, genuine and has not been switched out for a lab-grown lookalike.
Completing an inspection with your own eyes—once while shopping and again before purchasing—will allow you to feel twice as confident about what you are purchasing. More and more lab-grown diamonds and gemstones are being misrepresented as mined, making it more important than ever to know what to look out for when viewing items in person.  
4. Do your research
Like anything else, when it comes to bulking up your inventory and purchasing diamonds and gemstones, it pays to do a little legwork. Requesting (and checking) references, asking for proper identification, and reading reviews online are simple but critical steps to make sure you can trust a prospective seller. Additionally, digital tools can simplify the process and give you extra piece of mind. (Zing platform's Diamond Marketplace, for example, allows free and transparent access to inventory from suppliers around the globe.)
Knowledge is power. Having all of the necessary information in one digital location can empower retailers to make informed business decisions, create a seamless customer experience, and provide exclusive product selection.
5. Know what is covered
While most jewellery retailers are familiar with the basics of what is covered under their insurance policy, many might not know their level of protection when it comes to buying scams. To sufficiently prepare for the worst, it is crucial to know exactly what is and isn't covered under your policy. Staying informed in this regard will help you react quickly and take the necessary action to protect your business should you fall victim to a scam.
The bottom line
When it comes to purchasing diamonds and gemstones, a jeweller cannot be too careful. Scammers are becoming increasingly skillful at taking advantage of the hardworking professionals in this industry. Staying vigilant and informed on how to minimize your risk of being cheated is the best way to protect yourself and your business. This knowledge is imperative to maintaining the trusted reputation you have built with your clients.
For resources regarding safety and security when carrying or working with jewellery, visit JewelersMutual.com. For more information on reliable burglar alarm systems, subscribe to the Jewelers Mutual Clarity blog at jewelersmutual.com/clarity-blog. Jewelers Mutual Insurance Group is the only company specializing exclusively in jewellery insurance in Canada and the United States. It is licensed in Canada and all 50 states.