By Duncan Parker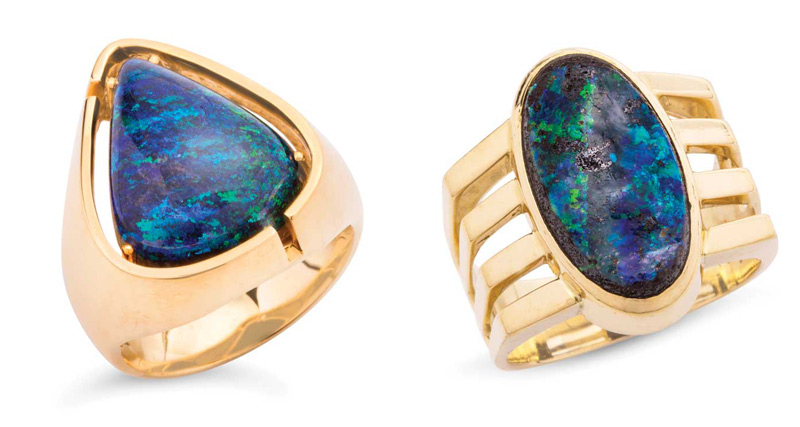 There was once a time when jewellery was almost entirely for women and offered sparse choice for men. We have certainly moved on from those days. For one, we don't want, nor embrace, stereotypical categories the way we used to. Indeed, gender focus in jewels, like many areas of the style industry and beyond, doesn't really apply in the same way it once did—and thank goodness for that.
Of course, there are still some jewels that are exclusively men's, but these are largely in unique and narrow categories. A Stanley Cup ring, for example, remains the territory of men who are professional National Hockey League (NHL) players (from cities other than Toronto, that is—sorry, Leafs fans). Even then, I like to think athletes in the NHL will, one day soon, not be limited exclusively to those who identify as male.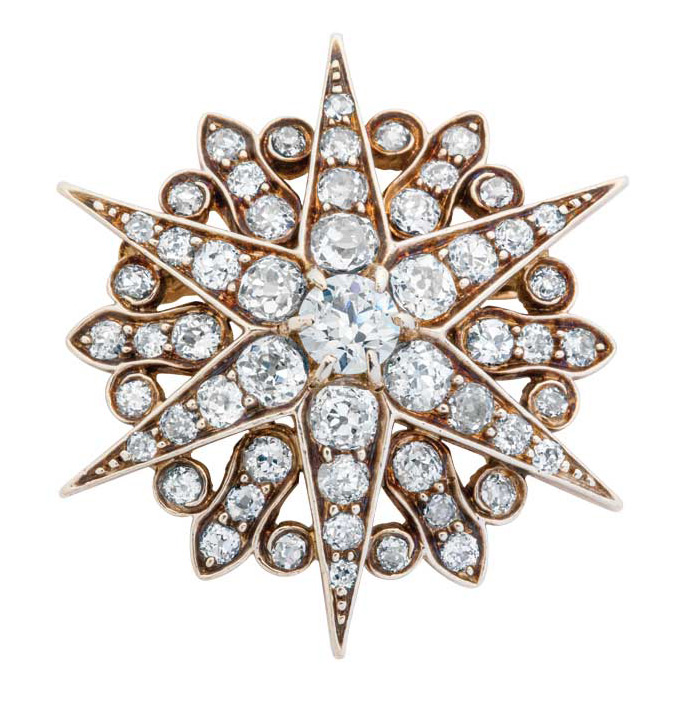 Some men's jewellery has really seen its day, finding its way into the big melting crucible in the sky. For instance, when was the last time you noticed someone sporting a tie tack (apart from, perhaps, the gold-nugget one you saw on your uncle Herb's soup-spattered tie at the last family wedding)? Tie clips have, likewise, mostly gone the same way.
Historically, men's jewellery boxes were bursting with cufflinks. Further, for those of us who once attended formal balls and galas, our outfits were complete with shirt studs to match our cufflinks. We may have had several 'dress sets' to add a little sparkle to our black and white evening clothes. In keeping with current fashion trends, however, more contemporary fancy outfits often feature colourful cummerbunds and ties, removing the focus on the studs and cufflinks.
Recent years have seen categories of gender not sharply defined in jewellery; we are seeing shifts in some areas and adaptation in others. These days, one is as likely to get shirts with French cuffs (for cufflinks), buttoning up on the left or right side.
On the other hand, jewels once traditionally worn by women are now more universal. In the first half of the 20th century, any well-turned-out woman wore a brooch. These pieces ranged from a simple bar (perhaps with a single gem in the centre), all the way to extraordinary festoons of diamonds and gems, occupying substantial portions of a dress, and even going over a shoulder and dropping down the back.
Currently, the lapel of a jacket or blazer is pretty much the only place where one sports a brooch. Collars of politicians display these pieces to accentuate a policy, a party, a nationality, or a sentiment. Madeleine Albright, secretary of state under U.S. President Bill Clinton, achieved fame for her brooches (or 'pins' as she called them). Albright's 2009 book, Read My Pins, was a catalogue of some of the pieces seen in a 2009 exhibition at New York's Museum of Arts and Design. Her brooches were worn to express a mood, a diplomatic stance, a state of affairs internationally, and so many other things.
Another long-standing fan of the brooch is Queen Elizabeth II, who wears one virtually every day. Her Majesty's brooches largely state a rank and membership in an order, but have also been observed as reflective of a relationship or position relative to a visitor. Indeed, there was much discussion of the brooches worn by The Queen on a visit by Donald Trump to the United Kingdom during his presidency. While Trump may have been somewhat clueless about the meaning of the brooches, the jewellery world was abuzz—and, it seemed, not entirely favourable to Trump.
Outside of other 95-year-old women, men are at least as likely as women to wear a brooch these days. After all, many of these pieces are perfectly sized for a lapel, making them a snazzy accessory for a suit jacket. While brooches are not made as often as they were yesteryear, there is certainly availability in the secondary market. Indeed, at auction, there is good demand for brooches, and, if you are a buyer, the prices can be very attractive. As such, for retailers with an estate counter, lapel-worthy brooches can be a good offering.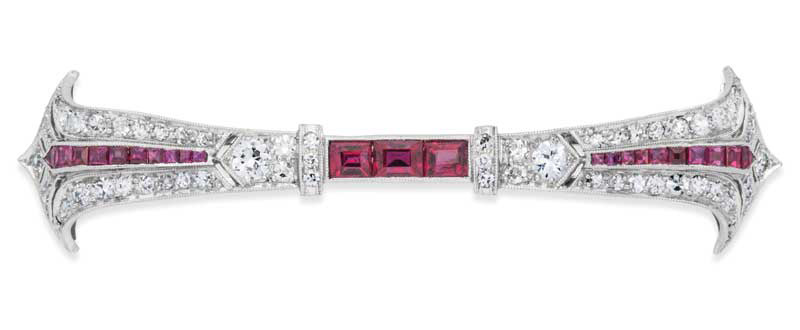 Shifting attitudes
In the traditional North American jewellery market, we have seen general reluctance among men to wear jewellery. Such adornment was long seen, perhaps, as women's territory—but, of course, is not an attitude shared across the board.
Amelia Rebelo has been active in Toronto's jewellery scene for more than 30 years, working as a designer, goldsmith, and manager at locales such as Robere's, Jewellery by Collette, and Made You Look. Rebelo, who is of Portuguese heritage, tells me in her experience within the Portuguese community, there is little gender difference in jewellery. She explains, as infants, children are gifted gold chains, bracelets, and pendants at their baptism. This early exposure to jewellery, she says, seems to translate into older generations comfortably embracing jewels.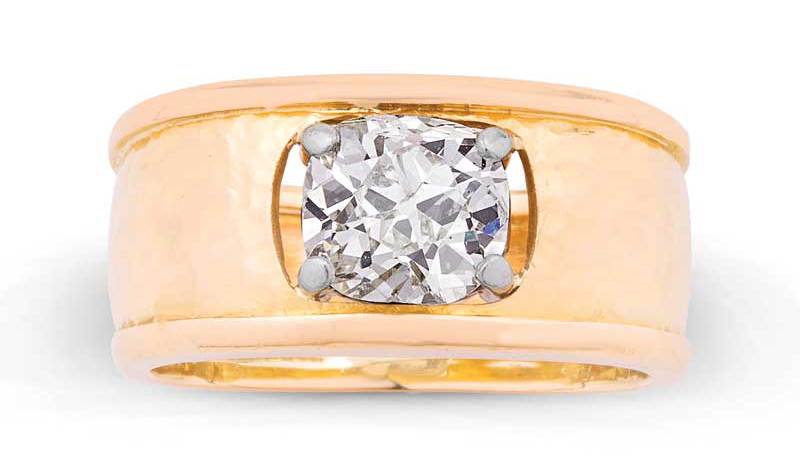 "My family was Portuguese," Rebelo says. "Men wore chains, signet rings, statement bracelets. I only became aware of gender with jewellery outside of that community. Non-European men didn't wear jewellery—maybe just a wedding ring or a small watch."
Indeed, it pays to get your customers to recognize design and craftsmanship of fine jewels early. This may well translate into an adult who recognizes the value of a fine gem in a ring, wonderful engraving, or stunning design of a jewel.
In the traditional North American market, "the only other jewels men wore were sometimes clearly branded items, like a pin with a team logo on a denim jacket," Rebelo says. Sport-related items are consistent with the traditional male image.
Catering to clientele
There's a long history of men buying jewellery, with most purchases being pieces bought by men for women. For many of these shoppers, the diamond engagement ring marks the first jewel someone buys.
Most often, the purchaser of a diamond engagement ring is terrified, as well as deeply reluctant to spend so much money on such a small thing. The symbol, of course, is incredibly significant, but still: the ring costs more than many a starry-eyed young man has ever spent on any single thing—ever!
Mothers often accompany their sons to buy a diamond engagement ring. Dads don't tend to go shopping for jewels with their son, which is interesting because the purchaser of Mom's engagement ring was not Mom, but Dad.
Historically, "men tend to buy for a purpose, to mark a moment, a celebration, or a memory" Rebelo says. There is less 'just because' jewellery buying. This, too, is changing. Most public art galleries and museums around the world offer a huge range of jewels, and there is no gender focus.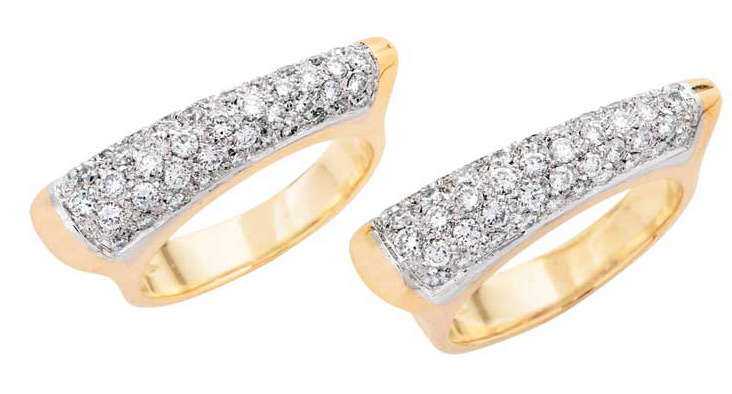 Men purchasing jewels are increasingly choosing to work with a designer and/or goldsmith to craft a unique piece, imbued with deep meaning, and the digital sphere has helped to usher in massive change in the jewellery market. Stereotypically, men don't like to shop (probably because we don't want to look stupid when we don't know things, and the opportunities to look stupid abound when one is in an unfamiliar environment). Now, men can look around on the internet, sort out what they want, and then reach out to discuss a purchase.
Once a range of options has been narrowed, the buyer can close in on exact needs. For retailers, this is where the ability to offer something unique is important. Additionally, a strong and responsive web presence is central. If you have what the buyer wants and can easily address their questions and needs, you'll get the order. This will bring in more men who prefer to sort out their choices online before stepping foot in a brick-and-mortar shop.
An evolving market
Of course, while the men in your store were once largely buying jewellery for women, more and more of these shoppers are now making purchases for themselves or, in many cases, for their same-sex partners. This has further opened the market for the 'men's jewellery' category.
"Gender non-specific couples are fun," Rebelo says, adding that, in looking for symbols that are important to them, they tend to "look to be busting out some of the walls."
Indeed, these shoppers are often keen to merge identities into one ring, for example. Clients get excited when they can "blend origins, identities, and symbols, often with private meaning for the wearers," Rebelo says.
"There can be a message so private, only you know what it means," she explains. "Jewellery is so powerful."
Same-sex couples often seek unusual materials, such as titanium, or look for very organic forms to further reflect personal style. The more personal a jewel, the more it has a resonance with the wearer. This really closes the circle between the jeweller and the customer.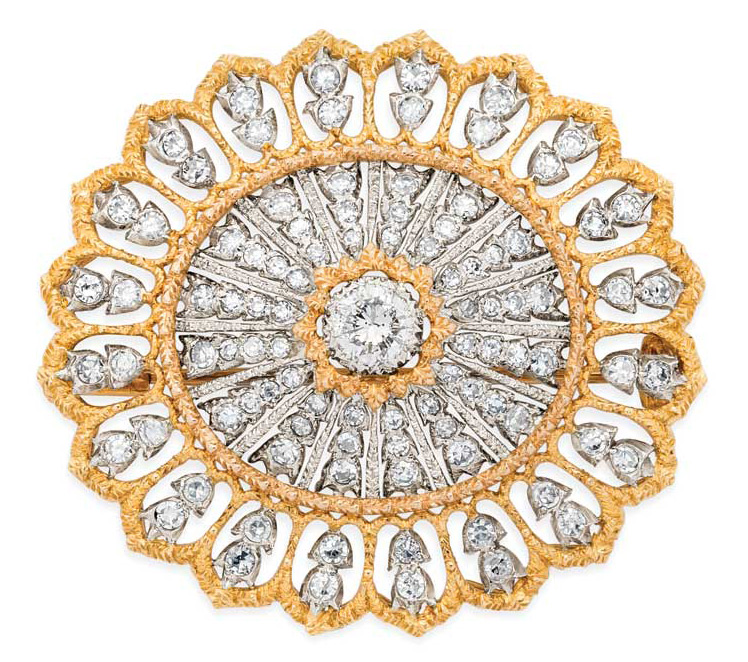 These days, few people have someone they would call 'my jeweller.' As consumers, we tend to shop around and look for the best price. Offering custom design and maintaining an active online presence breaks down a barrier and can help bring men in. In the digital sphere, including images with a diversity of fingers, wrists, necks, and ears wearing your jewels helps ensure everyone is welcome, including men. Something as simple as offering single earrings offers inclusivity for those with single-pierced ears and those with multiple piercings alike.
Time will tell
One everlasting staple item to help express personal style is a watch. In the era of ubiquitous smartphones, it may seem as though these pieces are of no necessity, but on the contrary! Often, the less we need something, the more we want it.
We don't wear a watch to tell the time; a watch is a jewel, an accessory—and they take many forms, allowing us to make a personal statement. What's more, collectors of watches are men much more than women. The brand, the complications, the simplicity or the complexity, the model, the rarity, or even the recognizable design may all contribute to the desire for a particular watch. Indeed, even the most reluctant jewellery wearer commonly sports a fine timepiece on their wrist.
Accessorized days ahead
The greater openness of the purchaser demographic has helped foster a comfortable sphere for men interested in buying and wearing jewellery. Seeing others wearing jewels has an impact and makes us think, "Maybe I can do that, too!"—what's more, we feel confident going far beyond the limits of Uncle Herb's tie tack collection.
Tradition renews all the time. What was customary for our grandfather is not necessarily what's best for us. We move and adapt in our tastes, styles, and understanding of the world around us. We need to embrace today and what is current. This means 'men's jewels' no longer describes a certain palette of offerings but, rather, embraces all.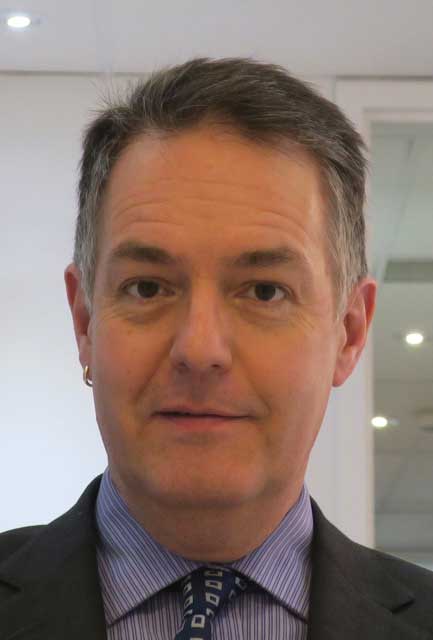 Duncan Parker, FGA, FCGmA, CAP-CJA, is vice-president of Dupuis Fine Jewellery Auctioneers, based in Toronto. He has worked as a gemmologist and jewellery specialist, appraiser, and consultant for the past 32 years. Parker is an educator and lecturer on jewellery subjects, and has been a speaker at international conferences with a focus on jewellery history. He has served as president of the Canadian Gemmological Association (CGA) and Jewellers Vigilance Canada (JVC). Parker can be reached via email at duncan.parker@dupuis.ca.