The colours of love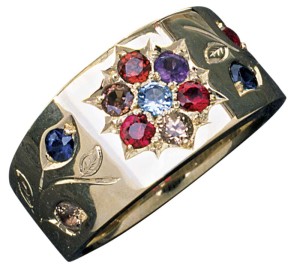 The common thread among these types of commissions is celebration of the family and milestones, such as parenthood, achievements, anniversaries, remembrance, pets, and commemoration of a loved one.
Mother's jewellery (or father's for that matter) often incorporates gemstones signifying the birth months of family members. Rings, pendants, cufflinks, and pins are all options. If you are lucky, the birthstones look well together. (If you are not, you could have a gaudy combination of purple, green, red, and yellow in one piece that surely tells the story, but is not exactly attractive!) To avoid the old standard of gemstones all in a row, my approach is to find more creative designs in which to include the birthstones.
One option is to create a set of stacking rings, each embellished with one of the birthstone colours. The gems need not be the same shape, but of similar size. Or you could pavé-set one or more bands with several small stones. This can provide better economy when the client has the more expensive April, May, July, or September birth dates. This approach also makes it easy to add future rings as the family grows.
One can choose a large gem to represent the wearer, with either graduated sizes for the rest of the family according to age or a medium-size stone for the other parent and smaller ones for the children. For one client, I designed a pendant featuring three cherries inspired by the family orchard business. The colours weren't realistic, but at least the blue zircon, aquamarine, and blue sapphire were birthstones of complementary colours. In another pendant, emerald represented the mother's birthday, with peridot and opal for the children's August and October birthdays, respectively. (I picked opal in this case, as it worked better with the other stones than pink tourmaline.) The father was born in April, so I pavé-set the 'ribbon' with many tiny diamonds, symbolically wrapping the family in affection.
When confronted with a project for a large family, it is difficult to avoid the mish-mash of colours. One ring for a grandmother started with her birthstone in the centre surrounded by her children's. The four grandkids' stones were set flanking the central flower with hand-engraved leaves and stems. Sometimes symbolism trumps esthetics! Perhaps more attractive is a bracelet made of three strands of flexible 18-karat yellow gold cable joined and clasped at the back, the birthstones bezel-set and attached on the top. The parents' gems were the largest and sit on the centre strand. They had two children; one of these offspring provided three grandchildren, while the other had one. This design allows for additional stones, should the family grow.