Weaving a story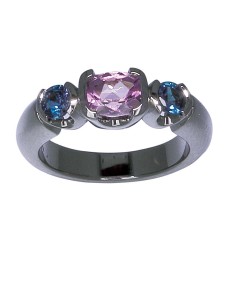 Combining birthstones with other personal symbols for the family can also help to make family jewellery more significant for the owners. A musical family chose a treble clef design for a pendant with a larger stone for the mother at the bottom and three for the children set in the centre. For a client who requested a pendant for his engineer/astronomy buff wife to celebrate their 21st anniversary, I incorporated a slice of Gibeon meteorite as the centre and set it in a yellow gold bezel with a 21-tooth, mechanical gear detail. I star-set the family birthstones to symbolize the constellation Orion. A small white gold crescent moon with blue sapphire eye completes the esthetic.
Sometimes numbers help tell a story. A client celebrating his 25th anniversary requested a ring for his wife. During our discussions regarding its design, he mentioned he had proposed all those years ago with a single red rose. Each year thereafter he added a rose to the bouquet he presented his wife on their anniversary. The ring features two rose gold carved blooms with stems (one for each of them) flanking a .25-carat bezel-set diamond. The side rims comprise eternity bands, set with 25 diamonds a piece, each one .01-carats, packing as much symbolism into this ring as possible.
Some jewellery is more about family history and sentiment. A client who typically purchases significant pieces came in one day with a tiny elephant carved from ivory or bone. It seemed an odd thing for her to own, let alone make into a piece of jewellery. She told me it was one of the few things she had that had belonged to her mother. After learning more about the piece and my client's mother, I came up with a simple brooch featuring white gold mountain peaks, yellow gold foothills, a green gold palm tree, and red gold ground, all to support and frame her little elephant. We finished the brooch with a bezel-set carved moonstone moon face.
For a client whose husband has a passion for frogs, I designed a pair of cufflinks featuring slices of druzy uvarovite garnet for the algae-covered pond that I set with a pair of carved tourmaline frogs perched on the margin. Tiny diamond dewdrops complete the picture.
Now in his mid-40s, a client commissioned a pair of earrings based on a gift he and his twin brother had given their mother when they were children: stylized Christmas trees with glued-on coloured rhinestones. Now a successful business man, my client requested we make her a pair of 'real' earrings that looked like the originals. Creating a rubber mould of the tree, we cast it in 18-karat yellow gold and set genuine family birthstones. We were able to create add-on sales by making cufflinks for each of the twins and pendants for their sisters, as well.
It is worthwhile to engage the client in the development of family jewellery designs. Some more than others can provide a great deal of input the designer can then filter and use for inspiration. I'm reminded of a commission for a client whose daughter was heading off to college in the United Kingdom. Being a very thoughtful man, he had written a few sentences that encapsulated for her his advice for life. After much discussion, we created a simple oval white gold plaque and had his words hand-engraved in a spiral, the phrases separated by flush-set black diamonds. The result was a very intimate piece she would wear daily, but that a casual observer would only perceive as pattern unless she invited closer inspection to reveal the sentiment. When his son went off to university, the same client commissioned a belt buckle, similarly engraved with another personal mantra.
People living in Victorian England used the 'language of flowers' to send highly detailed, though coded messages to lovers (and sometimes to those whom they spurned). I had a commission to design a locket that used this secret language to good effect. The base locket was sterling silver with a textured and oxidized background in a shiny frame. The bouquet was handcrafted of 3-D silver and fine gold flowers, combining a pansy (think of me), forget-me-nots (memories), a rose (true love), and daffodils (regard), with a larger rose as the bail.