Don't forget dad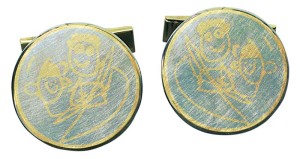 Unfortunately, family jewellery for dad does not offer as much scope for design. A mother of three boys requested cufflinks for their father. I suggested each of the boys draw self-portraits. She came back with three drawings that beautifully reflected the ages of the children with charming degrees of realism. Next, I scanned the images, combining them in graphics software and mirroring the scan to provide left and right images. I imported these into CAD software, converting the black lines of the portraits into cutters, which I used to create recessed areas into disk-shaped elements for the front of the cufflink. These were then milled and cast in 19-karat white gold. (In the time before CAD, I would have had the design photo-etched into metal plates, rubber-moulded, and cast.) After clean-up, we filled the recesses with wax, attached sprues to the wax layer, and invested in the usual way. Since 19-karat white gold has a higher melting point than 18-karat yellow gold, it is possible to cast it in place without affecting the white metal. The next stage was to file and sand the yellow gold layer down until only the image's gold inlay was left. Since polished gold does not reveal colour contrast very well, we created a scrubbed sandpaper finish with the white gold edge bevelled and polished to frame the images. If budget had permitted (these were made in the days when platinum was twice the price of gold), we could have achieved even better colour contrast by using platinum instead of white gold with 22-karat gold for the inlay. The client was thrilled with the result and they have a family heirloom to pass down, though I wonder which son will get them.
Touching tributes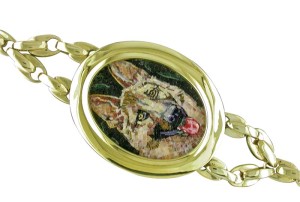 All family jewellery is a celebration, but sometimes it can be a bittersweet commemoration. For a client who lost a child to Sudden Infant Death Syndrome (SIDS), we created a brooch with branches of stylized baby's breath accented with tiny white diamonds overlaid on a slice of rich blue lapis lazuli. It is a poignant reminder of a life cut tragically short.
Some people honour their pets after they've passed away by using paw prints taken by veterinarians. These impressions can be scanned in 3-D and converted into a CAD model. It is usually necessary to shrink the prints to a reasonable size, but once that is done, they can be milled and cast in silver or gold, providing lasting mementos of a favourite feline or man's best friend.
As custom jewellers, we have the great privilege of becoming deeply involved in our client's lives. Creating a personalized piece of jewellery that reflects and celebrates families and their special occasions provides joy for them and satisfaction for the designer. It is up to us to discover innovative and original ways to tell their story!

Llyn L. Strelau is the owner of Jewels by Design, a designer-goldsmith studio in Calgary established in 1984. His firm specializes in custom jewellery design for a local and international clientele. Strelau has received numerous design awards, including the American Gem Trade Association's (AGTA's) Spectrum Awards and De Beers' Beyond Tradition—"¨A Celebration of Canadian Craft. His work has also been published in Masters: Gemstones, Major Works by Leading Jewelers. Strelau can be reached via e-mail at designer@jewelsbydesign.com.