More is more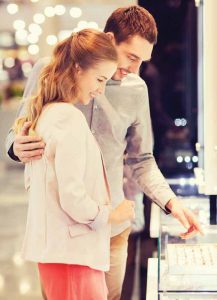 Twenty-five years ago, I was working in a small jewellery store as a gemmologist, salesperson, and apprentice insurance specialist. I was learning jewellery design and working with a fantastic goldsmith to recreate clients' lost treasures. We had a very small inventory, so we had to be incredibly resourceful when it came to making sales. We had every catalogue imaginable, I learned to counter-sketch (with pencil and paper), and we regularly babysat a sales rep's line and used it to sell special orders.
Some of what we sold came from Mansfield Importers down the street. Its longtime owner, Michael Mann, had an inventory that was out of this world. His Yellow Pages ad boasted more than 1000 engagement ring styles. Between a couple hundred fully set rings in the showcase and boxes loaded with mounts and semi-mounts, he probably had them all. He imported kilos of chain from Italy, and bought scads of highly discounted Seiko closeout watches. If you needed Cross pens, kitchenware, luggage, or tools, he had those too. His strategy was to stock a huge variety of jewellery, and my strategy was to have a friend who did.
Today, online retailers, Pinterest, and Instagram have forever multiplied the scope of designs a prospective bride is exposed to. Forget Mansfield's 1000 bridal styles, and think hundreds of thousands. Add to that the move to personalization, which has opened the door to more and more custom makeups and special orders, and the result is a significant challenge. How do retailers in 2018 expand their horizons to impress clients who have shopped the world before coming into your humble enterprise?
Well, the first way is to carry more designs. When I moved from having a skeleton inventory to a store full of ready-made designs, it was heavenly. I almost felt guilty every time I made a cash-and-carry sale, because it was hardly any work. No sketches, no waxes, and no "this isn't what I wanted." However, given the number of selections currently available through digital media, designs are more diverse than ever, so it takes a huge investment to prepare yourself for a successful cash-and-carry venture. To do so, your business might need a large cash injection, or long-terms from a supplier and a leap of faith you can make the payments.