A guiding light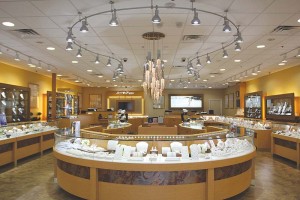 Why does lighting really matter? Why does outdated lighting hamper sales results in a retail environment? Does poor lighting repel potential clients? The consensus among experts and retailers alike is that either inadequate or improper lighting can be a major detriment to effective sales and, most definitely, an obstacle to creating value. In contrast, one manufacturer reports some store owners have experienced sales increases exceeding 25 per cent after renovating their lighting plan. Overall, store lighting can be an important factor in a customer's decision to even enter a store. Properly lit stores appear cleaner and can be perceived as more up-to-date in their offerings. Consider the use of brighter lighting strategies in stores that appeal to your target audience. Customers in their 20s and 30s may already feel intimidated about entering a jewellery store. Bright lighting can reduce that hesitation by providing an inviting environment where their insecurities and hesitation are diminished. At the other end of the spectrum, as the population ages and visual acuity is diminished, well-lit stores can be perceived as more welcoming.
Once entered, the overall lighting scheme subtly guides customers through the store, shifting their attention to the showcases themselves through the use of lighting differentials. Inadequately lit cases communicate poorly; they do not allow the customer to properly examine and appreciate the merchandise, which can result in an absence of commitment to purchase. A customer that cannot see the value in a piece of jewellery simply won't buy it.
Lastly, retail research has shown employees are happier and more positive in environments that are properly lit. If salespeople are energetic, positive, and pleasant, they're more likely to achieve higher sales-closing averages. Further, it can be much easier and more believable for them to convey the beauty and value of the product if they can show the customer what they mean by brilliance, fire, and scintillation. Trying to sell a beautiful stone of any variety in a dimly lit environment requires incredible powers of persuasion, often making a difficult job almost impossible.
If you're thinking about making some lighting changes in your store, here are a few things to keep in mind.