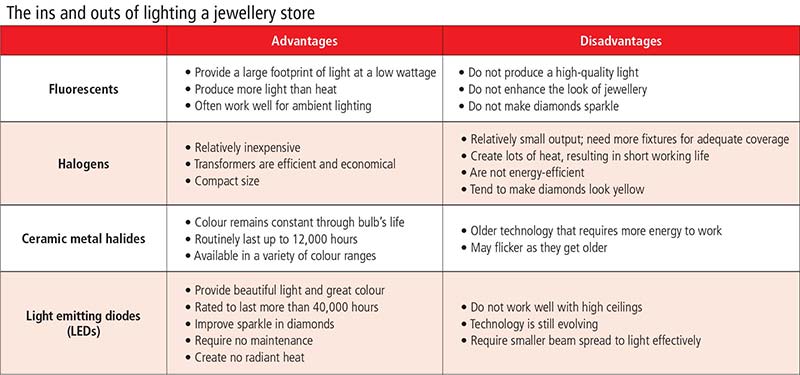 What are the different kinds of lights currently available for retail use?
The main types of lights with their advantages and disadvantages are outlined in the chart above. It provides a good starting point toward understanding the options available to the retailer.
What kind of lights should I be using? Where do they work best?
The short answer is a retailer should use the right lights for the specific objective desired in a particular part of the store. The first step is to understand the different types of lighting and appreciate when and where they work best. Retail lighting can be generally divided into three major groups.
Ambient lighting is essentially 'background' light. Experts suggest compact fluorescents or light emitting diode (LED) lights for this purpose, as they flood an area evenly. Consider using lights with a 3000- to 3500-K temperature light to make pathways inviting, though not over lit. Save the brightest lights for the showcases.
Architectural lighting (e.g. a wall sconce) refines the feel of the space and emphasizes specific areas of the store, such as wall accents and décor. It does not play a role in visual merchandising other than to create store ambiance.
Accent lighting helps provide focus for products and displays. To be effective, it should be as much as 50 per cent brighter than ambient lighting. Generally speaking, LEDs are the ideal solution to this challenge. However, if your ceilings are more than 10 ft. high, consider track lights or extension poles to bring them closer to cases.