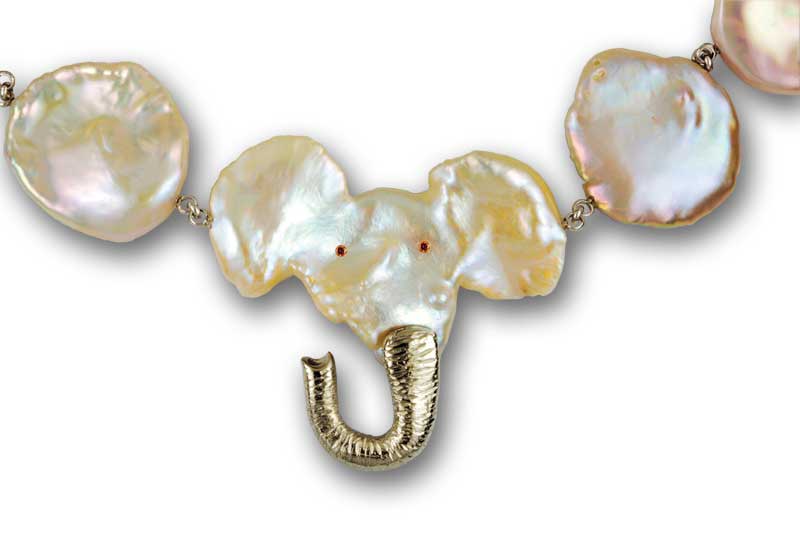 By Llyn L. Strelau
"I've looked at clouds from both sides now
From up and down and still somehow
It's cloud's illusions I recall
I really don't know clouds at all"
– Joni Mitchell
Yes, clouds present a world of illusion and opportunity for infinite interpretation. In our world of jewellery design, baroque pearls have provided the same opportunities. They have offered inspiration to generations of jewellery designers time and time again reaching back centuries to at least Medieval and Renaissance times.
There are many fine examples in museums around the world. One of the most famous is the Canning Jewel—a large torso-shaped natural pearl set as the body of a merman holding the head of Medusa and accented with enamel, coloured gemstones, diamonds, and more baroque pearls.
The perfect fit
I have been fascinated by baroque pearls for years and have a large collection of them. Some have turned into finished pieces, others are still waiting for their turn at the bench.
Looking at baroque pearls, like clouds, requires a degree of both belief and imagination. You must also look at them from not only 'both sides now,' but every angle. Some pearls, of course, will simply jump out at you, and others require more thought and consideration. Cultural background can also influence what you may see 'hidden' within a particular pearl.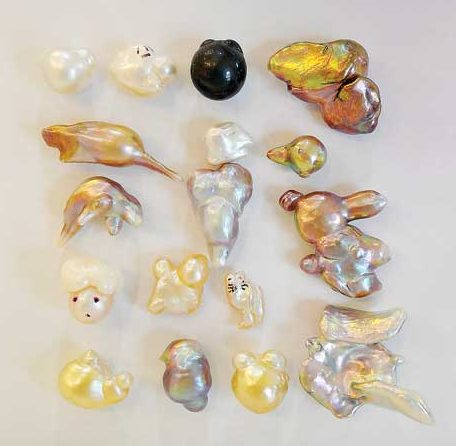 Love at first find
One of the first baroque pearls I worked with was a freshwater pearl that one of my suppliers showed me more than 30 years ago. He thought it was an oddly shaped flattish pearl, but the moment I took it out of the little round plastic box and turned it over, I immediately saw the Madonna and Child. It wasn't very large at approximately 15 mm (0.6 in.) tall, and to make it more substantial, I made a Gothic-style frame in yellow gold over a textured white gold that was slightly dished to provide a recess for the pearl. The addition of two 24-karat halos, pegged onto the head of the two figures was all it took to complete the piece.
Duck tales
Later, another pearl dealer showed me a Japanese akoya pearl that simply walked, talked, and quacked like a duck. The extension of the round body of the pearl was perfect. After a significant search, I found a Chinese freshwater pearl that's oval shape terminated with a perfect, turned up duck tail.
Inspired by Donald Duck, I added 18-karat yellow and white gold clothing, diamond-set buttons, a bowtie, and domed white gold eyes with tiny yellow diamond irises.
Since I like to create jewellery which tells a story, I added a walking stick with a tiny duck head, complete with 0.5-point diamond eyes, and finally a miniature diamond solitaire ring in his other hand, just in case a suitable lady duck happened to show up, so he could ask for her hand in marriage. The band of the ring also works as the bail, so when he is not standing on display he can be worn on a chain. Sadly, I never did find him a mate and he currently lives happily in the collection of a client.