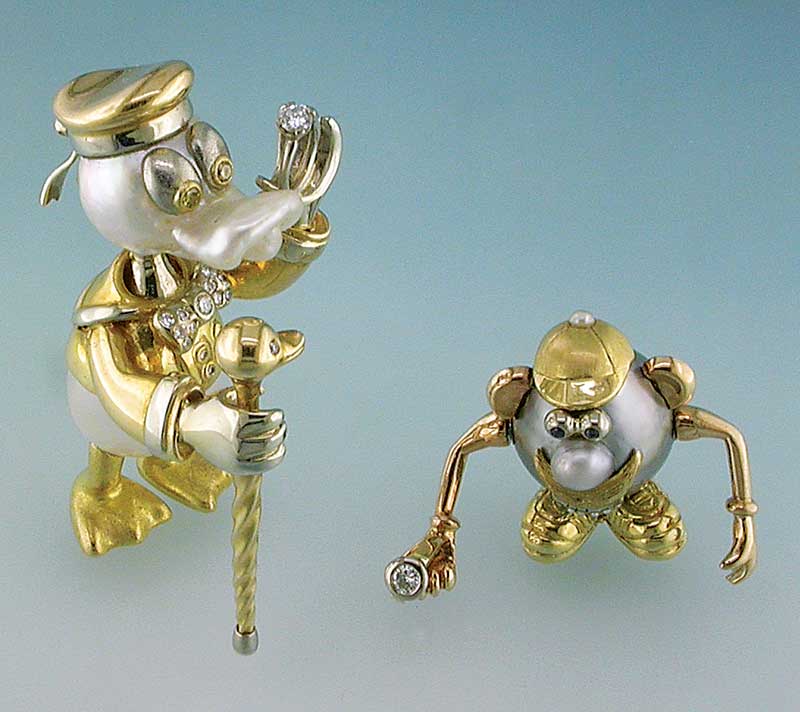 New spud in town
Similarly, I found a dumpy pear-shaped grey South Sea pearl with a perfect knob of a nose, and thus, Mr. Spud was born. He had 18-karat gold ears, eyes made from black diamond centres, and feet pegged and glued, and a little gold beanie topped with the tiniest Japanese keshi button pearl. He also had white gold buck teeth. Originally, I had planned to make the ears, moustache, and eyes removable with alternative styles able to be pegged in, but at this scale—the main pearl was only 11 or 12-mm (0.44-0.48 in.) tall—I was worried they would be too hard to hold onto, and be easily lost. I made his arms able to rotate, however, so he can lift the hand holding his diamond engagement ring, and also be able to propose to a Mrs. Spud if she came along. I am still looking for the perfect pearl for his mate, and have come close a few times, but they were just not right.
I kept this pendant (the shank of the engagement ring doubles as a bail), for several years before a woman in the U.S. contacted me after seeing a published photo of the duck. She wanted to purchase it, but since I had sold the duck already, I was able to offer her Mr. Spud instead.
Two not-so-blind mice
The next time I found myself perfect pearls was at GemFair Tucson while visiting a couple of my favourite dealers. I had spent hours combing through their collection of baroque pearls. Once I got started it was difficult to quit and, just like those clouds, there was inspiration everywhere.
Here, I found two pearls with heads and ears. One was a pink-ish Chinese freshwater pearl and the other a grey South Sea. I decided to make a pair of mice.
I added black South Sea keshi pearls for their noses and white gold with black diamond eyes were pegged on. Her eyelashes are mascaraed with black rhodium plating as were their mouths. I used sterling silver for their arms and legs with plated black rhodium to provide contrast.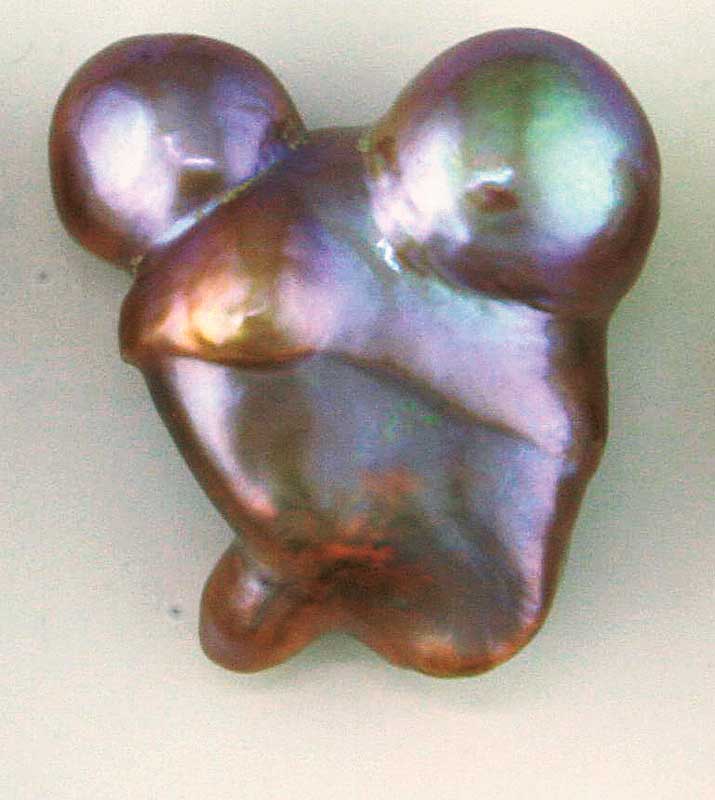 They both wear white gold gloves and he is holding a diamond solitaire ring. This time they have found each other and I think marriage is imminent!
The pink pearl has a rose gold bow, which also disguised an extraneous bump on the back of her head, which was studded with small pearls. Her dress and shoes were also pink gold accented with white gold ruffles, a diamond pave flounce, and tiny seed pearl polka dots. Her 'boyfriend' sports rose gold shorts with bezel set diamond buttons. His oversized shoes are yellow gold. While they are primarily objets d'art, they can be worn on a chain. Her clasped hands provide the bail function as does his ring.
No trout about it
Another South Sea pearl provided instant inspiration for a piece. The sleek elongated pearl had to be a fish. This pearl became 'David the Trout,' in memory of a brilliant jewellery designer and friend, Dave Trout, who tragically passed away at far too young an age. For this pearl project, I added the white gold tail, fins and head complete with diamond eye to complete the stickpin.
The elegant elephant
For this Chinese freshwater coin-type pearl, I recognized its three conjoined nuclei, turned it into an elephant with the simple addition of a white gold trunk and tiny brown diamond eyes. It was completed with four round coin pearls connected by simple links and attached to a white gold rollo chain.