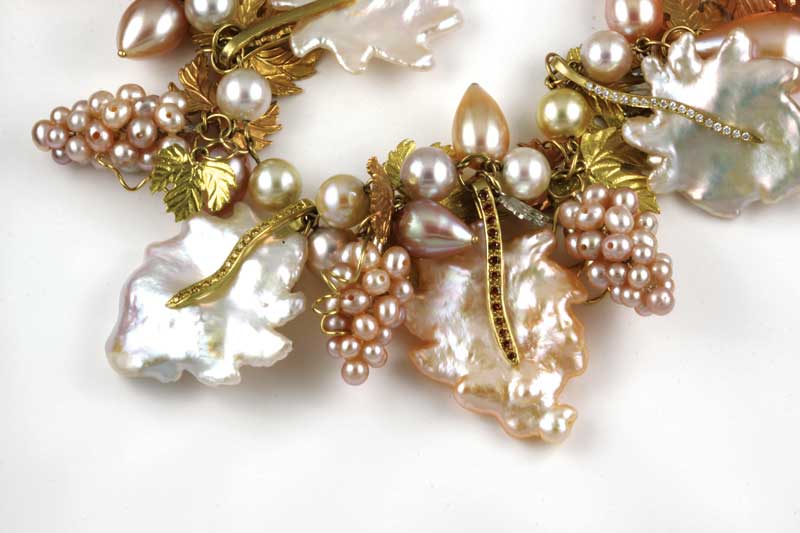 Up next at the bench
While I find it impossible to stop looking for new baroque pearls to see what creatures are hidden in them, I already have an extensive collection in my safe. Some of them are pretty obvious to the onlooker, others take a bit more imagination.
I have a couple pearls that may make the perfect beaver, perhaps an ode to my Canadian patriotism, though others may see an otter or seal. There is also a Chinese freshwater pearl just waiting to be made into a frog prince—he won't take much to complete, just gemstone eyes and perhaps a metal body and a lily pad to sit on.
Returning to the cartoon world, I found a golden South Sea pearl to make a great Pluto the dog, all he needs are ears, a cap, eyes, and maybe a body as well. I have four other pearls, mostly South Sea that are all heads with noses, and I eventually plan to make them into four of the Seven Dwarves. I am still searching for the remaining three heads to complete the set.
With this large, highly-metallic freshwater pearl, I see Eeyore from Winnie the Pooh coming to be. All this creation takes are a pair of ears, an eye, and a tail with a bow to complete the character.
Not all baroque pearls turn into animals. When I saw this freshwater torso-shaped pearl it reminded me of Renaissance jewels. Then I found a South Sea pearl that, when turned just the right way, exhibits a classic Roman profile, nose and all. It's rather haughty, but it will be fun when it is finished.
Endless options
Having covered animal and human creations, there are also pearls that can mimic the plant world. A rosy metallic pearl looks like a plump cherry complete with one leaf. I will add a stem and a couple of green gold leaves to make a pendant.
Another supplier I work with had made a collection of freshwater pearls in a variety of pastel metallic colours to resemble leaves. I don't know if the pearl farmer had deliberately inserted tissue nuclei to cause this shape, or if it was nature having fun. In any case, being a wine lover, I turned them into grape leaves with stems paved with different colours of natural fancy diamonds. Next, I added multi-coloured gold grape leaves plus clusters of grapes created from tiny round freshwater pearls glued to a stem armature.
The selection of baroque pearls is endless, and will offer the opportunity to set your imagination free. Start looking closely and see what the 'clouds' say to you!
Llyn L. Strelau is the owner of Jewels by Design in Calgary. Established in 1984, his by-appointment atelier specializes in custom jewellery design for local and international clientele. Strelau has received numerous design awards, including the American Gem Trade Association's (AGTA's) Spectrum Awards and De Beers' Beyond Tradition—A Celebration of Canadian Craft. His work has also been published in Masters: Gemstones, Major Works by Leading Jewelers. Strelau can be reached via e-mail at designer@jewelsbydesign.com.