By Todd Wasylyshyn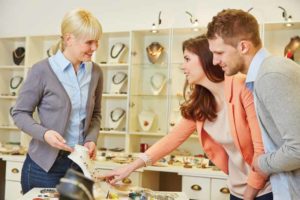 After working the Atlanta Jewelry Show in August, I headed to Georgia's Hartsfield-Jackson Airport to return home. With some time to spare, I wandered into an electronics store. As I was browsing the latest headphones and Bluetooth speakers, Darnell greeted me. He had a warm smile and a sincere, friendly approach.
Within two minutes, he knew where I called home, what I was doing in Atlanta, and my name, and he made me feel like meeting me was a big deal for him. I found myself telling him how much I appreciated the famous Southern hospitality I had enjoyed over the previous few days. From the hotel staff who suffered with us as we impatiently awaited the arrival of a lost piece of luggage to the comical hostess at the restaurant Pittypat's Porch who yelled at us, "Come on downstairs!" from the reception area, then laughed her face off at my last name, we ran into one lovable character after another.
A few hours later, I was in the Toronto airport being helped by nice and polite Canadians who served me with relative equanimity. Back home in Vancouver, service was much the same. None of the Canadian servers and clerks learned my name or shook my hand, and not a single one seemed to have as much joy in life as Darnell. This is not to say there are no good examples of outstanding customer service in Canada, but the contrast of this trip was a wake-up call for me.
The nicest people in the world
What's with us Canadians? Our reputation for courtesy and peacefulness is well founded. Maybe when we travel with a Canadian flag on our backpack, it's actually a signal for our hosts to short-change us because we're too nice to complain. I'm a proud Canadian and I'm extremely thankful my family and I get to live in such an affluent, beautiful, and peace-loving country. However, I do think we put too much stock in our reputation. I'd like to nicely, humbly, and with all due self-deprecation admit we can do better.
One of the biggest myths among young people looking for work is it's important to be courteous and nice to people. If you've advertised for sales staff, you've seen it on resumes and heard it in job interviews. "I like people," candidates might say, or maybe, "I'm a people person," "I enjoy serving people," or, "People say I'm pleasant to be around." Well, I hope so! If you're an antisocial, introverted, mean-spirited grump, your odds of working for me are pretty darn slim!
Someone who gushes about how nice and friendly he/she is should be tested. Here's an idea: tell that bright and chipper whipper-snapper, "Well, I'm having a really bad day. I'm not sure I want to hire anybody, let alone you, and I don't want to be here." Fold your arms, turn your head, give an exasperated huff, and see how each person responds. If someone turns and runs, move on to the next interviewee. If your candidate says, "Well sunshine, just turn that frown right upside down and be happy like me," then say, "Don't call us, we'll call you."
If a person can empathize with you, hear the story of what made your fictitious day so bad (you could have a lot of fun with that one), and from the depths of his/her heart find a way to encourage you, you could have yourself a prospect. If someone makes you smile, he/she might just make your shortlist. If someone makes you laugh, consider making an offer.