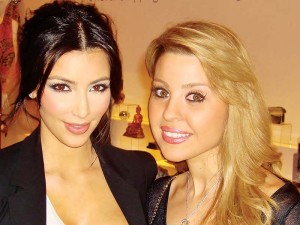 Fast forward to 2012 when Habib Malo, president of Montreal-based Malo, sees Kilislian on TV. Reaching out to her, he proposes they go into business together. Not only would his company distribute her jewellery, including a newly developed silver and natural gemstone line, but Malo would also manufacture it. (About 90 per cent of it will be made in Asia, with some assembly being done in Montreal, while the gold line will be manufactured in Turkey.)
Introduced at JCK Las Vegas, the silver collection—which also uses a patent-pending clasp to build say, earrings, from various pendant-like pieces—sets the stage for a new business venture. Up until now, Candy Ice has been sold privately through Kilislian's Hollywood and Toronto showrooms, at Barclay Jewellery, and online. However, the launch of the silver line will now see it offered through a retail network.
Habib saw the partnership as an opportunity to bank on a trend that has proven successful over the last several years among consumers: interchangeability.
"In the case of earrings, they are really important for a woman, and having the ability to transform them changes their allure," he adds.
Driving consumers to a dealer base is critical to help build a brand, which is why the partners have hired a public relations firm to oversee social media, circulate press releases, and organize events that will highlight Candy Ice's Hollywood connections and identity. As far as the buying public is concerned, celebrities are major trendsetters; the marketing plan also includes inviting some of Kilislian's celebrity clients to tweet about the brand.
Organizing charitable events is another method that helps build critical brand recognition and a feeling of goodwill among consumers. It's also a tactic Candy Ice will continue to employ. So far, it has raised $500,000 for disadvantaged women, orphans, and building wells in third-world countries. Kilislian says the goal is to reach $1 million by the end of the year.
Aware of the importance of a strong online presence, the partners are re-designing the Candy Ice website to allow users to virtually build a pair of earrings and view them placed on a model's ear. "You'll be able to see how the look of an earring can change by switching up pendants," Habib adds.
Likening Candy Ice to Lego for adults, Kilislian says interchangeability helps create long-term brand loyalty among consumers.
"They can build their set over time and don't have to invest too much money right away," she explains. "Once they buy one piece, they know what the future piece will be. A husband buying for his wife will know what the next three gifts will be."
Sounds sweet—just like candy.