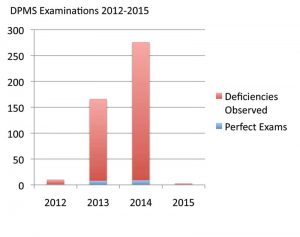 Examinations are the primary instruments for assessing and enforcing compliance. Between 2011 and 2015, FINTRAC conducted 454 examinations of reporting entities in the DPMS sector. As noted earlier, these examinations revealed industry-wide deficiencies in compliance.
When significant or very significant non-compliance is identified, FINTRAC works to ensure proportionate and tailored enforcement actions are taken. These could include compliance meetings and follow-up examinations. However, they could also take the form of administrative monetary penalties.
In 2008, PCMLTFA was amended to give FINTRAC the power to levy administrative monetary penalties. These penalties can range up to $1000 for violations not deemed serious, and up to $100,000 and $500,000 in the case of serious or very serious violations, respectively. To date, FINTRAC has levied such penalties against 74 reporting entities, including two DPMSs.
In the most egregious cases of non-compliance, FINTRAC can disclose a matter to law enforcement agencies for potential penal sanctions. This is generally reserved for situations where a reporting entity is either complicit in or "willfully blind" to money laundering or terrorist financing activity.