Breaking down barriers
Increasing your sales is no easy feat, but it is attainable when the right systems are in place. One of the most effective ways to secure a sale is by building a narrative with your customers. Connecting with clients through stories can help remove their fear of a 'pushy salesperson' and allow you to build a rapport that leads to sales and repeat business. Don't be afraid to break the ice with playful banter; perhaps a relatable—not hokey—joke that evokes a laugh is all it takes. This kind of fun-loving attitude breaks down barriers and encourages the client to lower his or her guard and begin a dialogue with you.
Remember, jewellery is usually an emotional purchase and is almost always attached to a story. In a 2010 Southern Jewelry News article, retail consultant Brad Huisken notes most jewellery stores close sales for about 20 per cent of shoppers who come through the door, while averaging approximately five per cent in add-on sales. To boost sales, try building a narrative with customers by asking open-ended questions. The tired phrase, "Can I help you with anything?" won't suffice. It allows the client to respond with a quick "No," halting the sales opportunity in its tracks. Instead, ask what brought the customer into the store. It's a great way to begin a friendly conversation and will help you understand who the customer is and what he or she is looking for.
Merchandising point of view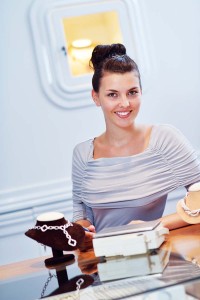 Similarly, salespeople are often guilty of offering a simple hello from behind the counter while the customer browses, without any further interaction. Another scenario sees a customer waiting idly to pick up a watch repair. These are missed opportunities to build a rapport with your clients. Instead of a one-word greeting, try connecting with your customers by asking whether they have visited the store before. If they have, show them a new product you're excited about. If it's the customer's first time in the store, explain the business's merchandising point of view (MPOV)—essentially its identity—to give them a clear idea of what your store is all about and the unique services or products you offer.
Andrea Hill, owner of StrategyWerx and consultant to the jewellery industry, explains in her blog, "What's Your Merchandising Point of View?" that an MPOV is both the physical look of the store and its values. It's "your declaration of identity to the world of consumers, it is what your store is all about, it screams 'come in if you like these things' and 'move along if you value those other things because that's just not what we're into here.'"
Hill points out an important, though often difficult notion for many business owners: your MPOV will both include and exclude customers "because you don't need every customer to be successful. You just need the right customers," she explains.
Determining who your best customers are is paramount for a successful MPOV. Hill writes that business owners need to know how their customers dress, how they spend their time and money, where they align themselves in society, and what matters most to them. By answering these questions, you can identify which customers are most suited to your business, making it easier to engage and guide the right customer through the sales process. You will also be better equipped to select merchandise that appeals to your clients, while advancing your store's unique story, Hill explains. "This marriage of merchandise, experience, and physical (or graphical) space is the merchandise point of view, and like all marriages, it requires constant nurturing and attention to blossom and to be sustained."