Building relationships through stories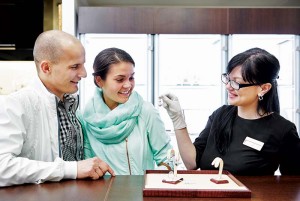 Relationship-building is not always easy, but through stories—both yours and your customers'—you can successfully build a lasting rapport with your clients. In our high-tech world, people feel more isolated than ever before; they are craving human connection. One way to reach out to your clientele is by encouraging them to share their stories on your business's social media sites. For example, we posted the following question on our Facebook page: If you could choose the fingerprint of anyone throughout history to imprint on a charm, who would you choose? We were astounded with the heartfelt and personal responses we received. Instead of naming celebrities or world leaders, many shared stories about loved ones who had passed on. A frenzy of activity ensued, with customers 'liking' and 'sharing' each other's posts. By asking a simple question, we sparked a genuine exchange between our business and our customers, thus furthering our relationship-building efforts.
In this new era of cutthroat competition, you and your staff must work harder than ever before to secure a sale. You must possess technical knowledge that is delivered in a compelling way. Role play is a highly effective tool to ensure your staff is fully equipped to do just that. To begin the activity, create stories your staff can use for different occasions and topics, such as bridal, Valentine's Day, Mother's Day, romance, etc. Role play can teach your salespeople to gain customer confidence and discover the emotional reasons that brought each client into the store. Use your monthly meetings to set the stage. One employee becomes the 'customer,' while one or two other employees serve him or her. Ensure you have an observer to take notes, and then let the fun begin. It should be a supportive and encouraging environment where your staff can learn, grow, and explore different approaches to connect with clients and close a sale. By allowing everyone involved to provide feedback, it becomes an inclusive form of training and an effective team-building tool.
For role play to be successful, you must follow-up the training. In addition to monthly role plays, use performance metrics to help ascertain whether any employees are struggling with the exercise. Quarterly reviews will help determine if members of your staff require additional training. When a staff member is unable or unwilling to meet your expectations, you owe it to your business to replace that person with someone who can. According to CIBJO's "The Retailer's Guide to Marketing Diamond Jewellery," the 'rule of 10' states that, "It takes £10,000 worth of advertising to bring one customer into the shop for 10 minutes. It takes just 10 seconds for an inept salesperson to turn that customer away and 10 years to get that customer to come back." An underperforming staff member can therefore have a very real negative impact on your sales.
In-store innovation
Sometimes, despite your best efforts to engage shoppers, you will find a customer engrossed in his or her smartphone, oblivious to the in-store experience you're offering. In a recent Google study entitled "Mobile In-store Research: How in-store shoppers are using mobile devices," Google found 82 per cent of in-store shoppers use mobile searches to help make purchase decisions. Further, instead of speaking to a sales associate, one in three uses their mobile devices to find information. To reach this segment of clientele, businesses must optimize their websites for mobile by listing the brands they carry, highlighting current promotions, and identifying similar products the customer may be interested in. When the customer finds the same product online at a cheaper price, staff must be prepared to defend the store's pricing by noting the exceptional service and accountability that comes with making a purchase from you.
By using the tools outlined here, you can effectively increase your sales and form lasting bonds with your customers, turning them into patrons for life.
Jeffrey Ross and Patti Moloney are a husband-and-wife duo that has used innovative thinking and technology to develop and expand their line of Dimples charms across Canada. They are also owners of Jeffrey Ross Jewellery, a retail store in Uxbridge, Ont.