Tools of the trade
It is hoped that anyone (i.e. everyone) performing jewellery appraisals has access to a precision binocular microscope capable of multiple modes of lighting and magnification up to at least 35X. If you are reading this and you don't have access to this minimal testing ability, please invest in your professional future and your credibility. A quality gemmological microscope equipped to provide direct, dark-field, overhead, and fibre optic lighting is the most powerful tool most of us have when attempting to identify a gemstone's country of origin. Equally important is the hands-on training and the reference library necessary to competently perform and interpret the tests. There are some determinations requiring additional equipment and testing, for instance, spectroscopic evidence of copper in Paraiba-type tourmaline, however, microscopic evidence is often our first line of exploration.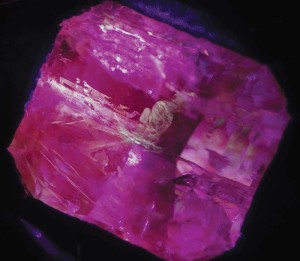 Numerous organizations provide advanced training that can help us learn how and what to look for when examining gems with a microscope, as well as the proper use of other kinds of equipment. Sometimes, short courses are offered at trade shows, as well as conferences put on by many professional organizations. I often stress the importance of continuing education, and when it comes to confidently and competently recognizing the clues for country of origin determination, it is vital. I feel it is important to repeat that more often than not, given our limited equipment, we won't be able to positively determine the country of origin for most gemstones. There are many wonderful books and computer programs that can offer us guidance, but for sheer beauty and comprehensiveness, I highly recommend the three-volume series, Photoatlas of Inclusions in Gemstones, as an essential set of references.
While the initial investment in texts, equipment, and training may seem daunting, it is critical to the successful identification of gemstones and their country of origin. In my experience, there have been numerous times when I was unable to determine exactly where a gemstone originated, but I was at least able to determine where it most likely did not come from. However, at the heart of the issue lies the question: when does a gemstone's country of origin actually matter?