Firing up the engines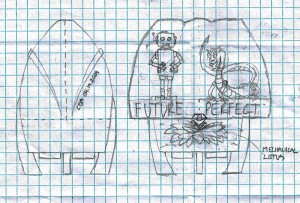 A young professional man came in for a consultation. He wished us to make an engagement gift for his boyfriend, a research physician, that would mark this next stage of their relationship.
He brought in a very clear sketch and one that I found extremely intriguing. The creative juices started flowing and over the next couple of meetings, the project began taking shape.
My client (I will call him Charlie, his partner David) wanted a small sculpture/objet d'art in the form of a retro-style spaceship, which when opened, revealed several elements with significance for the couple and their relationship.
In addition to their motto, 'FUTURE PERFECT,' there were to be two passengers aboard: a stylized robot to represent Charlie and an Asian dragon with five claws on each foot for David, who is from the Far East. Inside, the spaceship was to contain an open lotus flower, with a diamond centre that sits above the mechanical structures representing the craft's engine. The ship's registration number, CDA 04.19.2009 (the date marking the beginning of the ongoing Charlie and David Adventures) was to be engraved on the outside.
Although the client's original sketch showed an egg-shape spacecraft that opened like a three-panel screen, I immediately imagined it as a three-petal flower. When open, it would reveal the lotus in the base, with the robot in one alcove, the dragon in another, and the 'FUTURE PERFECT' legend in the third. Now the question was, how do I make the concept a reality? It was very difficult to establish a firm budget at this stage—we had not crafted anything quite like this before. Fortunately, the client had some flexibility in this regard. There was give and take, as well as compromise, during the construction and we were able to work together as the project proceeded.