Practicing self-control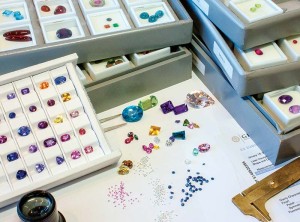 My 'problem' is I woke up one day and discovered my safe overflowed with inventory of (mostly) beautiful gemstones. Sure, I had sold many over the years, but somehow every time I did inventory, both the quantity and the value had increased. I just didn't know how to stop myself. Clearly, things were out of control. There was temptation on every front and my dependence grew. Regular dealers would come through on their annual tour and something from their stock always called my name. A new supplier would visit town and show me a gem I didn't know existed and it simply had to remain behind with me. As hard as I tried to resist, I just couldn't help it—I simply had to buy more gems. Visits to the trade shows are even greater temptation. I am bombarded on every side by booth after booth of sparkle. And even if"¨ I swear to myself and my accountant that I don't need another strand of pearls, a carving, or a faceted gem, I come away with pockets bulging and a dwindled bank account.
Of course, I have sold many gemstones in the 40 years I have been working in the jewellery industry. I even (sometimes) sell them from my treasured 'personal' stock of collector stones. My problem is inventory doesn't turn as fast as either my accountant or my banker would like.
To be honest, it is difficult to operate without a loose stone inventory. As an independent jewellery designer—like many of my peers—I specialize in custom design, making it important to have a good collection of gems with which to work. They inspire creativity for both the designer and, more importantly, for the client. When a customer comes in and wishes to design a piece of jewellery, it is very useful to be able to pull out a selection to inspire them. Naturally, it is impossible (even for a completely addicted jeweller) to have every size, colour, shape, and variety of gem. However, the larger the assortment, the better the chance of closing a sale on first contact. If you see a beautiful, well-cut ruby or sapphire, it can make sense to buy and hold, as you never know when a similar gem will be available. Like me, you may find diamonds don't require as much breadth of inventory as coloured stones. Most of us can call our diamond suppliers who, out of necessity, hold a wide selection of stones that can be delivered on memo in a day or two. You may risk losing a spontaneous sale, but if you have a cross-section of diamonds that fit your typical client profile, you can at least get the ball rolling, even if you have to get him or her back for a second visit.