Selling is finding people to sell, and selling to the people you find
Today's jewellery retailer can no longer afford to spend money on advertising and marketing, while sitting back and hoping this strategy works. Building an ivory palace and waiting for customers to come into the store could spell disaster. Salespeople working in a successful jewellery operation must take some responsibility and do their part to help increase traffic. It is no secret that prospecting is the toughest part of a career in sales. It takes the most drive, effort, determination, and self-discipline. Yet, prospecting is the activity that can give you the greatest number of leads. You certainly can't sell if you don't engage your clients. The following can help broaden your customer base.
Get a referral or recommendation from every existing customer. It's a sure bet that every one of your clients has a friend or relative who may be looking to buy a piece of jewellery. Consider saying something along the lines of, "If you know anyone else who is in the market for fine jewellery, I would love to meet them as well." It certainly couldn't hurt to ask. Many great businesses are built solely on referrals and recommendations.
Hand out your business card. Salespeople should have a minimum of 25 business cards in their possession at all times, even when not in the store. Never pass up an opportunity to hand out your business card. Give one to the bank teller, the postal clerk, the grocery cashier, your electrician, cable guy, even the policeman writing you up a ticket. Just say to him/her, "Here is my card, I'd like to write something up on you someday." You never know where your next customer is going to come from.
Provide unsurpassed customer service that can generate word-of-mouth advertising. We know that when people buy new jewellery, they can't wait to show it off to friends and family. At this point, the customer can either say, "You have to see my beautiful new earrings," or "You have to see the beautiful new earrings I got from ABC Jewellery." In one case, they are bragging about their new jewellery, while in the other, they are bragging about their new jewellery and the store where they purchased it. Whether they mention the name of the store or not is totally dependent on the type of service they've received. After all, if your customer can't remember the name of your store, you might want to think about how much of an impression your staff actually made. Selling your store as the place to buy jewellery and your sales associates as the ones to make that happen are essential to developing repeat business and referrals from your existing customer base. One of the goals in any sales transaction is providing such exceptional customer service that it actually inspires word-of-mouth advertising. I would argue there is no more powerful form of advertising than this one.
Network and get involved in the community. To maximize success in sales, get out there and meet people. One of the most effective ways to do this is through networking. Get involved in the community through local clubs, organizations, charitable groups, etc. You're not looking to actually sell on the spot to any of the people with whom you network. You're simply letting them know you exist. The more people you know, the bigger your potential client base. Further, I just think it is a great idea that people get involved in their communities and give back to those who may one day be your client.
Build a more sales-generating client base. Your existing customer base is probably the easiest way to generate more traffic. It has been written that as much as 60 per cent of a store's business comes from 25 to 30 per cent of its customer base. The task, therefore, is to get existing clients to come into the store more often. The secret to an effective telephone/e-mailing process is to get your customers to ask you to call them. How a salesperson approaches this tactic determines their success.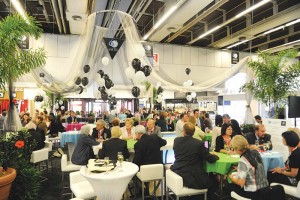 A client will want to hear from you when a new piece they may like comes in or when there is a special event planned at the store. These are perfect opportunities to ask how they are enjoying their recent purchase.
When taking this approach, the process of contacting the client becomes customer service, rather than just another sales call. Again, the secret to an effective telephone/e-mail campaign is in getting the customer to ask you to call them. Although this takes lots of practice, you may be surprised how many of your existing customers would truly take advantage of the relationship you've developed and look at your efforts as providing exceptional customer service, rather than an annoying call or bothersome e-mail.
As I mentioned previously, 60 per cent of your sales come from 25 to 30 per cent of your customer base. What isn't generally known is a typical store loses 20 to 25 per cent of its customer base annually. Where are they going? Maybe they've moved away, have a change in their financial situation, are purchasing from the competition, have passed away, etc. My point is successful jewellery retailers have to constantly look at ways to grow their customer base by at least 25 to 30 per cent every year just to break even. That number has to increase even more to show sales increases.
Contrary to what others say, I know customer loyalty is alive and well. When a customer goes into a jewellery store, I don't believe they are looking for jewellery. Instead, they are looking for a place and a person from whom to buy their jewellery. Consider implementing these techniques into your sales presentation to be the professional your customers expect and the expert you want to be. Be their friend in the jewellery business and provide exceptional customer service that creates word-of-mouth advertising. In other words, don't simply rely on advertising and marketing to draw customers into the store. Instead, be proactive.
Brad Huisken is president of Colorado-based IAS Training. A trainer and consultant, he has authored "I'm a Salesman! Not a Ph.D.: Realistic Strategies To Increase Your Sales" and "Munchies for Salespeople—Sales Tips You Can Sink Your Teeth Into." Huisken is a regular contributor to several trade publications. He has also presented sales seminars at various trade shows, such as JCK Toronto, the Western Canadian Jewellery Expo, and JCK Las Vegas. Huisken can be contacted via info@iastraining.com, www.iastraining.com, or by calling (800) 248-7703.