Show and tell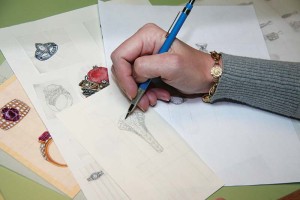 In the store where I work, every display case contains several custom pieces. Each has a special blue tag, allowing the salesperson to instantly recognize it was made in-house. I think it is extremely important to be able to show clients the style and quality of work you can do. Simply put, you can't sell custom if you can't show custom.
We have a designer on staff with a background in art and, more importantly, a patient disposition. She meets with potential custom jewellery clients, gives them a tour of the store, and gets an idea of the type of piece they would like made. In the case of the female client who wanted a fancy garnet ring, she was first shown many styles of bands, including one I had made that she liked. It had three rows of diamonds set in a traditional four-prong, bead and bright-cut pattern.
Our designer is careful about writing down all the elements the customer says they want. Those notes, along with a few pencil sketches, are then refined into more deliberate drawings. We never want to offer the customer only a single solution. I think it's best to present at least three different looks—one modest, one spot-on, and the final 'stretch' design. This last option is beyond the customer's stated desires and budget. It's a 'wow' design, and quite often, it's the one the client can't get out of his or her head and ends up selecting as the finished piece.
Bench jewellers should only get involved in the process after sketches are drawn up. Keep in mind that designers often do not have a jeweller's depth of knowledge about how jewellery is made or what is even possible. After reviewing the sketches, I am able to discard designs that won't work technically and keep the designer on track toward a piece that will look good and fit the customer's needs. Use great caution here and choose your words carefully—this is usually the point where feelings get hurt.
Some customers are not nearly as easy to work with as our garnet ring client. Many take weeks to make their selection, which can make the designer's job very time-consuming and even frustrating. This is why I do not recommend the bench jeweller be the person to meet with customers. Jewellers are typically very busy and aren't usually allowed the time to develop the personal rapport with clients needed to coax their design vision for the piece.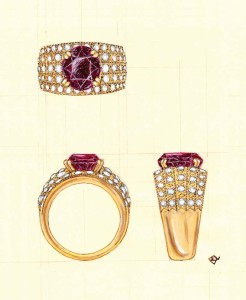 Once the three sketches are complete, it is my job to determine the final retail cost to create each piece. While I am busy with my estimates, the store's gemmologist is tasked with locating and pricing out the perfect gemstones for the design. In the end, we all work together to create a package the designer can present to the client for approval.
Some of our customers live quite a distance from our store or have very busy lives. If it is inconvenient for them to return to meet with us, we often scan pictures and discuss any changes or issues over the telephone. I know some stores shy away from sending digital images to clients since they can then be taken to competitors to create the same item. However, we trust our clients, and we use every means possible to make their experience convenient and satisfying. Through a series of phone conversations and e-mails, our client settled on the 'spot-on' design seen in the photo to the left.
We all know the state of the economy over the past three years. The store I work for has also seen its share of slow days with few customers. For us, however, custom work has been one of the bright spots. While repair work has slowed in my shop, custom designing has soared. In years past, we averaged four or five custom-made items each month. During 2012, we averaged nine a month.
I have to warn you—getting into the custom design business is a slow process. It is built on your clients' confidence in your work and their referrals, and it can just as easily be destroyed. There is an old saying of which I'm reminded: If you do one bad job, you kill 10 future sales.