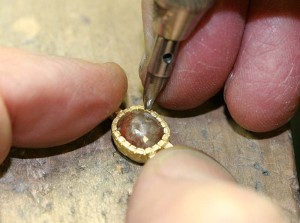 Next, I turned to setting the 15 raw diamonds into their individual links. I've worked with CAD for a few years now and resolved many of the initial difficulties of sizing models to fit snuggly to gemstones. In the case of these raw diamonds, I projected an image of each stone onto a computer screen, using the diamond's exact outline to create a model. I added a scant 0.05-mm to each stone to account for any shrinkage in the cast links. The result was that each stone fit very tightly into its individual custom link. Setting the raw diamonds became a simple matter of tapping the bezel's inside lip down onto the stone and then applying a light brush finish to the metal to help blend in any tool marks. The only thing left now is to assemble the bracelet.
If you are curious, the small indentations going around the bezel are meant to resemble a crude form of milgraining. I think it helps to break up the design and adds a bit of a focal point.
The finished bracelet came out very nicely and was well received by its new owner. This 18-karat yellow and white gold piece turned out to be quite heavy at 24 dwts. It also took nearly a full week to create, coming in just shy of 40 hours. I was really glad I was able to use CAD/CAM technology and grateful for the 30 hours it saved me.
One last idea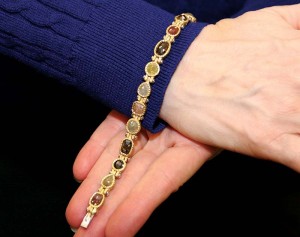 Custom jewellery can be both expensive and very personal. Your customers will understandably be proud of their new jewellery and want to show it off to friends who may also be able to afford nice jewellery. In the last year, we have been photographing our custom pieces in progress and then giving our customers a small photo album showing how their special piece was made. Each album has about a dozen pictures, and the description for each photo is usually just a few sentences long. So far, our customers have been very enthusiastic about their photo albums. We hope they will show them to their friends and each one will become a mini commercial for our store. Custom work is all about building your reputation one customer at a time.
Thank you for reading this article and all the others. I do enjoy your e-mailed comments or questions, so please keep them coming. In the next issue, I will discuss creating signature pieces and show you how I made a Victorian-style pendant using rose gold and pink diamonds.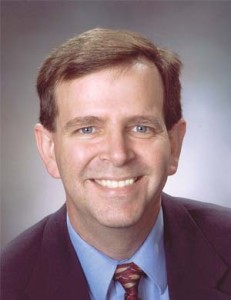 Tom Weishaar is a certified master bench jeweller (CMBJ) and has presented seminars on jewellery repair topics for Jewelers of America (JA). He is an award-winning columnist, picking up Silver at the Kenneth R. Wilson awards for his six-part series on stone-setting techniques. Weishaar can be contacted via e-mail at tweishaar@cox.net.