Making a signature pendant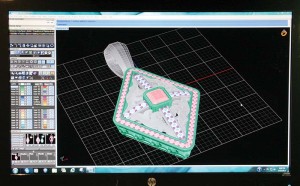 By the beginning of December, I was starting to feel like I had conquered the majority of my custom work battles. I had one more large and complicated piece to make for Christmas and several smaller orders. That's when my employer told me a fourth customer had placed an order for a signature pendant that had to be ready by Christmas. I was told the client lived in England and had seen the other three pendants on our Facebook page. Wow! That's cool.
Over the years, I have hand-fabricated about a dozen pendants similar in design to these four; each of those previous jobs required approximately 60 hours of labour to complete. For our current projects, I used our store's CAD/CAM system to help create them, saving nearly 30 hours of labour per pendant. I have a personal interest in highly detailed work, and the time savings generated by designing with CAD allowed me to spend a few extra hours fine-tuning the smaller details. The first of these four pendants—the ruby and diamond piece—was slightly criticized as looking rather flat. For the next three, I domed the front more to give them additional depth.
The pendant in the CAD image to the left was made using 18-karat rose gold set with pink diamonds and platinum set with white ones. This project also has the distinction of being the first job to be created using the store's new 3-D printer, also called a wax growing machine.
There are many similarities between wax milling and wax growing technologies. For one, they are dramatically faster and can achieve a level of detail nearly impossible with hand carving. Additionally, both technologies leave a small amount of texture on the surface of finished models requiring a bit of hand finishing before casting.
It is the differences between milling and growing machines that might be more noteworthy. Growing machines make models about three times slower than milling machines, although they are able to create undercuts and hollowed out areas where mills can't reach. Mills are slightly less expensive to purchase and can have a lower overall cost to operate and maintain. Mills use the regular carving waxes most bench jewellers are familiar with, while growers use specially formulated waxes that melt at tightly controlled temperatures. In a perfect shop, I would want to have both a mill for speed and a grower for detail.