Making a splash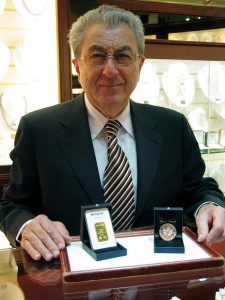 In a tough economy, Ara Run says it's getting harder and harder to get people through the wooden French doors of his store, Exclusive Diamonds, in Toronto's Sherway Gardens. So for the past year, he's turned the tables, so to speak. Rather than just buying back precious metals, he's been selling gold and silver wafers, coins, and bars, bringing the physical commodity right to his storefront and allowing his clients to skip the mint or the bank.
"I always look for new ideas because we don't do a lot of advertising," Run says. "Selling physical gold and silver brings in a little bit of action."
Run says he sells solid gold from one-ounce sizes, all the way down to 1/10 of an ounce. He doesn't charge much over the market price. "Just $50," he says, adding customers are willing to pay slightly more for the convenience of simply walking into a store, as opposed to going through the mint.
He's the only jewellery retailer he's aware of offering physical metal, and adds he got into the business when gold prices went through the roof.
 "It's an old custom for many Europeans to give gold coins as gifts, so I thought that the way the gold prices are going up, instead of buying those medallions"¦ they could buy bars," says Run.
He keeps a sign in his window advertising his cash-for-gold business, but shies away from an aggressive marketing campaign.
"We do it in a nicer way," Run says, noting the main benefit to his operation has not been from selling the wafers and bars themselves, but rather the traffic it has produced in his store. Interest, Run says, is what he was after.
A new clientele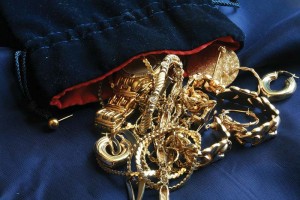 Selling gold has become so widespread, it's no longer a practice reserved for people desperate for cash.
According to Jansseune, it has become acceptable in the mainstream, partly due to how easy it's become to trade in gold for cash. Even luxury chain store Birks offers a gold exchange program, with consumers receiving a discount off their next purchase.
"There's a lot of dated jewellery"¦ so why not bring it in and make something new of it?" asks Lorne Spivak, owner of Samuel Kleinberg Jewellers in Toronto.
Spivak, who has always traded gold for store credit, has successfully used a buyback program to lure new customers in, and trigger his existing clientele to upgrade their current jewellery.
"It was very well-received by our clientele," says Spivak, who's been running the campaign since last November.
For every $1000 he buys back, Spivak gives out $250 in credit toward a future purchase. "It's a good complementary business," he says. "There's nothing negative about it."