Is the diamond market forever?
August 2, 2018
By Neeta Gupta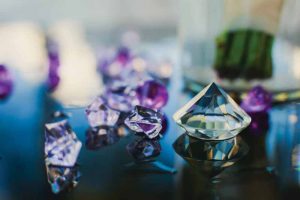 Diamonds are not only esthetically beautiful, but also symbolic of love, romance, and commitment. The stone's name is derived from the Greek word adamas, which translates to 'unconquerable.' Historically, people believed rough diamonds in their natural state had the magical power to cure all kinds of ailments and ward off evil spirits. Diamond was also perceived as making the wearer indestructible, like the stone itself.
Gradually, diamonds began to lose their appeal as people became less influenced by magic and superstitions. This also happened because diamonds were not very attractive in their rough state. In the 14th and 15th centuries, things started to change when polishing techniques began to develop in India and Europe. Early polishers discovered they could use diamond powder to remove roughness and make some natural surfaces more transparent, but hadn't found a way to shape a diamond. They called the resulting polished octahedrons point-cut stones.
Foundations for the future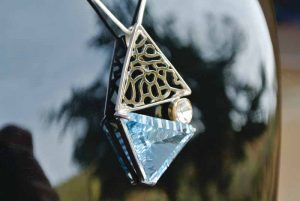 A breakthrough came in the 16th century, when polishers were able to create a flat table facet by grinding away the upward-facing point. They called this a 'table cut.' The subsequent century saw advancement in the grinding process and the creation of rose-cut diamonds. This cut was essentially a flat bottom with facets at the top. The stone resembled the petal of a rose, imitating the narrowing spiral of the petals.
Perennially popular
In modern times, Tiffany & Co. gave a rebirth to rose-cut diamonds. Around 100 years ago, the company set the rose-cut diamond in an open mount so light could shine through the stone, giving it an enhanced dazzle effect. Years later, with more and more jewellery innovation, rose-cut diamond lovers have been able to add sparkle to the rose cut by baking thin layers of gold or silver at the bottom of the diamond. The precious metal helps reflect more light through the gem without having to alter the original cut.
Rose-cut diamonds have become very popular these days, with numerous jewellery designers using them. They were a dominant trend in 2017, whether used to encircle a main coloured gemstone or as a standalone in a bold design. These cuts can be found in some form at nearly every jeweller. Some use rose-cut diamonds to add a vintage edge to designs; others make the cut seem totally modern by setting the diamonds in white gold or platinum and centering them on symmetrical lines.
Slices of life
The trendsetter for 2018 seems to be sliced diamonds. These are very thin slices of diamonds, sometimes only about 4 mm (0.15 in.) in height, which have large, asymmetrical, and shallow facets. The best-quality pieces have very good polish on them. The advancement in polishing techniques makes these diamonds compete well with the other shapes of diamonds. When choosing sliced diamonds for my designs, I look for the lustre and quality of polish. Retailers should also look for thickness—it is difficult to handle sliced diamonds with lesser thicknesses, and you will end up with broken, unusable pieces.
Clear-cut confidence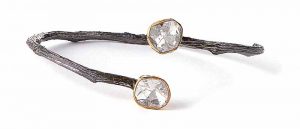 The most popular and globally produced diamond has been the brilliant-cut diamond. The round-shaped brilliant cut, a symbol of unending love, was invented in the 1900s. With it came the terminology to precisely define the qualities of a diamond—the four Cs. Colour, clarity, carat weight, and cut have become the international language jewellery professionals use to describe and evaluate diamonds. The resultant increase in consumer awareness has empowered even the average purchaser to make an informed decision.
These new consumers are more confident in their purchases. They like to shop around to find the most reliable retailer with the best deal. Retailers today must keep in mind they should not try to outsmart these new consumers, but rather try to win their confidence by appreciating the awareness they have, marketing to them at a reasonable profit margin.
Changing with the times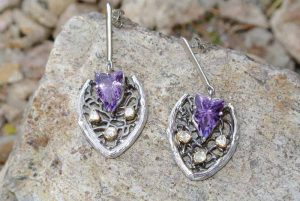 Retail sales of diamonds are slowing down globally. There are several factors contributing to this, but the Canadian retailer is hit especially hard because of changing consumer attitudes and population demographics. A growing percentage of the population comprises aging individuals for whom luxury spending is no longer affordable. The younger generation of consumers, the so-called millennials, appear to be less attached to the tradition of diamond jewellery than their parents and grandparents. The young consumer of today is more value-conscious, more concerned with sustainability and ethical production, and often values unique and individual products over items that are standardized or mass-produced.
Retailers can combat these problems by having a wide range of price points in their selling baskets. A good combination of individualistic design and an affordable price is attractive to both millennials and older people.
The new age of bridal
Millennials are also marrying later. The median age for them to marry has come to be 27 for women and 29 for men, and a lot more couples live together without getting married. (For more, see these article from the Toronto Sun[5] and the Toronto Star[6].) That translates into a huge challenge for the diamond business. It is important for retailers to get creative in how they sell in this tough market. They can offer more 'promise rings,' relationship anniversary jewellery, and other jewellery for every small and big occasion and milestone millennials celebrate. Even when catering to the bridal market, innovation in design to make jewellery more appealing and affordable to millennials is the way to move forward. Instead of selling a large ring for $10,000, for instance, try selling three small ones at $4000 each.
Rising above the rest
The popularity of gemstones is also gradually taking away diamond buyers. When millennials decide to marry, they can choose from a variety of sapphires, emeralds, rubies, and other gemstones, or even pick lab-grown diamonds, which may cost 30 to 50 per cent less than mined diamonds. Lab-created diamonds (also known as manmade and synthetic diamonds) today are grown in highly controlled laboratory conditions that simulate the earth's natural diamond-growing process. The results yield real diamonds that are physically, chemically, and optically identical to their mined counterparts. More and more retailers are beginning to sell these lab-created diamonds, looking at the cost advantage and lesser inventory investments. These gems have also proven to be a good alternative to moissanite. Moissanite has some similarities to natural diamonds, but is considered inferior with comparison to grade, colour, and double refractive index.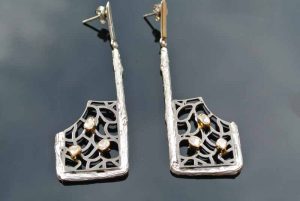 Instead of tucking away these options and only telling customers they are better off with diamonds, retailers can keep a few of these alternatives on hand, show them to the consumer along with diamonds, and highlight the comparative advantages of diamonds. Consumers today have a quest to be aware and make informed decisions. Once they know the different nuances of the options on the table, they will be more likely to retain their interest in diamonds.
Going digital
The retail market is also taking a hit because many people are switching to shopping online. Now one can buy directly from a diamond wholesaler or even the manufacturer. However, one must be extremely careful buying diamonds online. There are many unscrupulous websites posing as legitimate businesses. The safest way is to look for certified credentials of the seller, as well as a certificate of authenticity issued for the diamond by the Gemological Institute of America (GIA). This is one authority that is consistent and strict in their evaluation of any diamond and is reputable in the jewellery trade.
The online shopping craze is growing basically on the ease of returning the goods purchased, more than the convenience of buying from home. Retailers can provide the same ease of returning, albeit in a fixed period. One might consider offering deferred payment options without any financing cost.
Jewellery stores must try to instill confidence in customers' minds that the diamonds in the store are competitively priced, have GIA certificates, and—more importantly—come with a service backup. Consumers can confidently make a purchase after feeling the beauty of diamond in their hands, and will rely on the brick-and-mortar store for the assured services. Customer service, more than in past, has become the go-to feature today's consumer is looking for. It is retailers' time to make the most of it.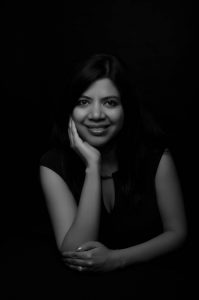 [8]Neeta Gupta is an award-winning jewellery designer at Neeta Gupta Fine Artisan Jewellery in downtown Winnipeg. After taking courses at Sturgeon Heights Winnipeg and the Gemological Institute of America (GIA), she launched her nature-inspired Neeta Gupta Jewellery Collection, which features carefully crafted jewellery pieces with diamonds, gemstones, organic outlines, and graceful textures you find in nature. Recently, Gupta was recognized for the JCK Editors' Choice Top Three Rising Stars and Jewelers' Choice Best Statement Piece awards. She can be reached at info@neetagupta.ca.
Endnotes:
[Image]: https://www.jewellerybusiness.com/wp-content/uploads/2018/08/bigstock-157227617.jpg
[Image]: https://www.jewellerybusiness.com/wp-content/uploads/2018/08/DSC1784.jpg
[Image]: https://www.jewellerybusiness.com/wp-content/uploads/2018/08/IMG_0030.jpg
[Image]: https://www.jewellerybusiness.com/wp-content/uploads/2018/08/DSC1780.jpg
Toronto Sun: http://torontosun.com/2012/12/05/is-there-a-right-age-to-get-married/wcm/4a56c549-17b6-4ff6-b472-48f082c75ce2
Toronto Star: http://www.thestar.com/news/canada/2017/08/01/census-data-likely-to-show-that-fewer-canadian-couples-are-getting-married.html
[Image]: https://www.jewellerybusiness.com/wp-content/uploads/2018/08/DSC1870.jpg
[Image]: https://www.jewellerybusiness.com/wp-content/uploads/2018/08/headshot.jpg
Source URL: https://www.jewellerybusiness.com/features/is-the-diamond-market-forever/
---